Bench Leads Wabash To Win over Witt
by Brent Harris • February 16, 2011

Share:
The Wabash bench provided 32 points Wednesday night to lift the Little Giant basketball team to a 70-59 win over Wittenberg in an important national, regional, and North Coast Athletic Conference contest.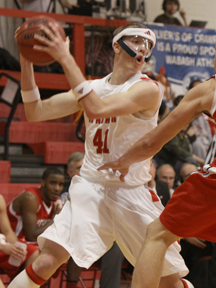 Derek Bailey and Jordan Surenkamp provided the biggest sparks, with Bailey tallying a career-best 17 points on 6-of-8 shooting. He drilled 3-of-4 3-point attempts, as well. Surenkamp added 13 points with a 5-of-9 shooting effort. Normally used as a substitute later in the game, the sophomore stepped in early in the first half to connect on back-to-back shots for five of his 13 points.
"Jordan Surenkamp hasn't had a lot of time, but we needed somebody who can shoot and will shoot," Head Coach Mac Petty said. "He has nerves of steel. Bang --- he'll shoot it. In our loss on Saturday to Hiram we had guys who didn't want to dribble the ball, they wanted to hold it. We need guys who can shoot the ball."
The victory came just hours after the Little Giants, 18th in the latest D3hoops.com national poll, learned they had been bounced from the latest NCAA Great Lakes Regional Rankings due to Saturday's 12-point home loss to Hiram. The victory provides Wabash another win against a regionally-ranked foe, with Wittenberg re-entering the rankings at number five. Wabash can also move into third place in the seeding for the upcoming NCAC tournament with the combination of the win against Wittenberg (17-6, 13-2 NCAC, 17th D3hoops.com poll), a win this Saturday against Oberlin, and loss by Ohio Wesleyan at Wooster.
The focus heading into Wednesday night's game against the Tigers, however, was defense and playing Wabash basketball.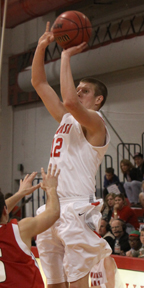 "We have a marker board in our locker room," Petty said. "When we opened it this evening to go through game plan, someone had written a letter to the team 'about playing Wabash basketball. We played these other games to the level of our competition, but we didn't do that at Wooster and we need to play Wabash basketball tonight.' I didn't have a lot to say after seeing that. When it comes from your players a message like that means a lot more than when it comes from me. I don't really know who wrote, but I have a few ideas.""

The Little Giants transferred that message into hard-nosed defense. Wabash held Wittenberg's Clayton Black, who entered the game shooting over 60 percent from the field, to four baskets in 11 attempts and a total of nine points. Chris Sullivan, the Tigers' leading scorer with a 15.6 points-per-game average, was held in check with only six points on 2-of-10 shooting with two 3-point baskets.

"We had a game plan on defense, and I can't say enough about Nick Curosh and the job he did against Clayton Black," Petty said. "I told Nick, 'you're staying in the game every minute he's in the game. You can play with him. He did a great job. Our defense, except at end, did a good job."

The Little Giants held a 32-28 lead at the half, but stretched the advantage to as many as 18 points with less than two minutes left in the contest. Wabash at one point during a 15-7 run that extended the lead capitalized on four consecutive offensive rebounds before Bailey was fouled and hit two free throws, running two minutes off the game clock. The Little Giants owned the boards most of the evening, taking a 38-26 rebounding edge with 12 offensive caroms.

Wittenberg's Josh McKee tried to shoot the Tigers back into the game late, connecting on two 3-pointers and a layup to trim the Little Giants' advantage to six points. Brian Shelbourne's four free throws in the closing minute provided the 11-point difference.

Aaron Zinnerman provided scoring balance for Wabash with 13 points. Wes Smith added 12 for the Little Giants. Steven Newell paced Wittenberg in scoring with 12 points.

Wabash improves to 18-5 with the win and 10-5 in the NCAC. Little Giant fans will have a chance to honor the five members of the senior class prior to Saturday's 1 p.m. tipoff against Oberlin at Chadwick Court. Petty, who announced his plan to retire at the end of the season last week, will be recognized with a special ceremony at the conclusion of Saturday's contest.

Photos - (top left) Junior Derek Bailey scored a career-best 17 points to lead Wabash to an 11-point home win over Wittenberg Wednesday night.

(Bottom right) Sophomore Jordan Surenkamp played 21 minutes off the bench, scoring 13 points in the winning effort for Wabash.




Results: Wabash 70, Wittenberg 59 Game Stats