Washington Poet Reads Thursday
by Jim Amidon • February 7, 2011

Share:
Poet Samuel Green will read from his work in the Korb Family Classroom on Thursday, February 17 at 8:00 p.m. A reception and book signing will follow the reading in Littell Lobby.
Green will also spend time with students in Professor Marc Hudson's poetry class, and will also have individual conferences with those students.
Green was Poet Laureate of Washington State from 2008-2010 and is the author of ten poetry collections, including Vertebrae: Poems 1972-1996 (Eastern Washington University) and The Grace of Necessity (Carnegie Mellon University Press, 2008).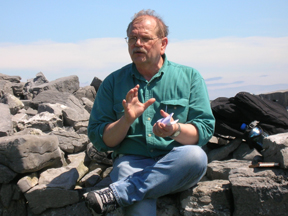 With his wife, Sally Green, he has owned and operated the Brooding Heron Press on remote Waldron Island in Puget Sound for more than 30 years. The press specializes in the publication of fine letterpress editions of poetry.
"Much of Samuel Green's own poetry draws from his life on Waldron, a life lived in a close-knit community and in close contact with the shifting weathers and tides of his island home," said English Professor Marc Hudson. "In his poems, nature is often woven into moments of the community's life—a work-bee tending the island's cemetery, the labor of laying a stone foundation for his house, sharpening a scythe, writing an elegy for a fisherman friend."
Sam Green's work has appeared in scores of literary journals, including Poetry, Poetry Northwest, Southern Poetry Review, Poetry East, and Prairie Schooner.
A 30-year veteran of the Poetry-in-the-Schools program, he has also taught at Southern Utah University, Western Wyoming Community College, and has served five terms as Distinguished Visiting Northwest Writer at Seattle University,, as well as eight summer terms in Ireland for Seattle University. He also received a National Endowment for the Arts Fellowship in Poetry. In addition to his work as a printer, publisher, teacher, and poet, he served in the U.S. Coast Guard in Antarctica before transferring to the rivers and harbors of South Vietnam.
Professor Hudson said Green's life on Waldron Island is not at all insular. "It is a place where the poet can listen with a certain care toward both language and the meaning of our human world set against the more permanent forms of nature."
Dr. Hudson said one short meditation on the horrors of 9/11 from Green's recent book, The Grace of Necessity, "enfolds that terrible day within the healing gaze of his observant poems:"
September 14
Light alone can't unlock the mourning.
Everything we see carries
the burden of what we know
until we let it be itself again. Walking
the yard with coffee cooling
in my hand, I stop at a single seed
of hawkbeard balanced
on a blade of grass. Except
for paying attention, what else
is continual prayer?