Tracy Sugarman told a small group of about 30 Wabash students — mostly freshmen and sophomores — that he wrote his most recent book because "we do a lousy job of teaching history in America."
Sugarman has been an active participant in American history since he stormed the beaches in World War II — his vivid drawings and descriptive prose have documented much of that history.
But he believes an entire generation of Americans is growing up without realizing the heroic sacrifices people like his friend Charles McLaurin made in pursuit of basic civil rights. "We've allowed it to slip," he said.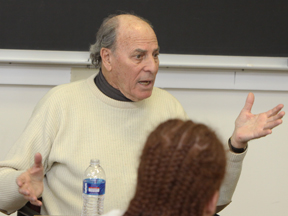 "All of you didn't know about Charles McLaurin or Fannie Lou Hamer or me until you read this book," he told the Wabash students, who have read
We Had Sneakers, They Had Guns
:
The Kids Who Fought for Civil Rights in Mississippi
.
"I learned about their sacrifices by going to the South, being a messenger of the civil rights movement, and bringing my drawings to the nation.
"It's important for people to know about Charles McLaurin."
Sugarman and McLaurin are Wabash's featured guests in celebration of Martin Luther King, Jr. Their visit is sponsored by the advisory board of the Malcolm X Institute of Black Studies.
The students who read Sugarman's book were allowed to pick his brain over lunch on Thursday, and though he's nearing 90 years old, Sugarman answered every question with a thoughtful answer.
"My inclination as a young person was to express myself through my drawings," he said. "By drawing, I was able to find truth and understand what I was looking at. It was of great value to me. "
After serving in World War II, Sugarman began his career as an illustrator at the height of the magazine industry in New York. His drawing appeared in literally hundreds of magazine ads, books, and record covers. And just as the growth of television began to impede on the magazine industry's advertising revenue, television news also began to bring frightening images of segregation into the homes of Americans.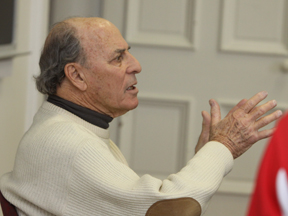 "As a father and a husband, I began to be concerned by what we saw on TV," he said. "It shocked the hell out of me. I thought World War II had settled certain things like 'a master race.' I'd given two years of my life fighting against this, and I come back and discover racism in the American south. It infuriated me and my family."
Sugarman said his work as an illustrator for corporate giants like General Electric and AT&T celebrated "the greatness of America." Then at age 44 — having lived in an all-white neighborhood, attended an all-white university, and served in an all-white navy, he headed south.
"I headed south… to discover Dixie. Dixie was rotten with apartheid — violent, unfair, terrible apartheid. To see it up close was a shock to my system that I hope I never get over."
Using the bulk of his time to inspire the Wabash students to make the most of their lives, Sugarman — with a little help from McLaurin, who sat in on the book discussion — tried to convince the Wabash men that motivated people can change anything.
"The great legacy of Charles McLaurin and the civil rights movement is the history written in blood of the young people who dared to stand up and demand change," Sugarman said with passion. "Those young people created a climate for change everywhere, all around the world. People everywhere learned to organize for change.
"Sadly, a lot of this is like mythology now."
And that's exactly why Sugarman published We Had Sneakers, They Had Guns in 2009 — 45 years after he wrote his first book about the Freedom Summer, Stranger at the Gates: A Summer in Mississippi. He wants to wake up a sleeping generation of young people who either believe there is nothing left to change or are unwilling to take a stand.
"People pay dues; they invest their lives in things they are committed to," he said. "It isn't a matter of ideology, it's a matter of commitment.
"There's a lot of unfinished business in America."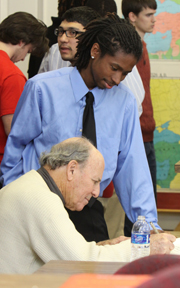 One student said he wasn't sure there was anything great left to change. Sugarman quickly rattled off several nagging issues in our society, including the two million people who are incarcerated in American prisons. "Like in the sixties, people are just looking the other way at this problem. We've got two million kids who should be learning, teaching, raising families, and making a contribution to society."
Another student asked Sugarman why he, a college-educated, wealthy white man, got involved in the civil rights movement.
"I was motivated by a speech I heard from Martin Luther King, Jr., when he said, 'Don't sleep through a revolution,'" Sugarman recalled. "So I went to Washington with my two kids, and I was worried. Washington was still a southern town, a segregated town in 1963. And yet 250,000 blacks and whites got together saying 'we shall overcome' and we changed history that day. That was the turning point. Good got enlisted to fight evil, non-violently."
McLaurin spoke up, too, saying involvement is about motivation. In his case, the motivation to join the Student Nonviolent Coordinating Committee was anger. "I was selfish in the beginning, but it seemed like every place I went, I faced it: some white person wanted the space I was in," McLaurin said. "I accepted the invitation to join the movement only after I had faced racism and segregation."
Sugarman ended the talk by reminding the Wabash men that they stand on the edge of a technological revolution. No longer will media be required to bring attention to growing societal problems. Using the events in Tunisia, Lebanon, and Iran as examples, Sugarman said young people can be held down for only so long.
"You're a the beginning of a whole generation of revolution," he said. "You just can't keep young people bottled up any more."