Wabash vs. OWU Live Video Feed
by Brent Harris • December 6, 2010

Share:
Tuesday night's North Coast Athletic Conference men's basketball game between the undefeated Wabash College Little Giants (8-0, 1-0 NCAC) and Ohio Wesleyan University (3-4, 1-0 NCAC) will be available through a live video stream on the Internet for fans who cannot attend the game at Chadwick Court.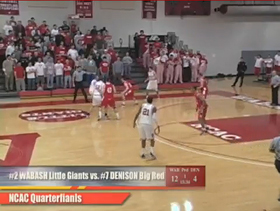 The game is one of five home games scheduled to be broadcast live over the Internet. Wabash games versus Kenyon (Jan. 29), Hiram (Feb. 12), Wittenberg (Feb. 16), and Oberlin (Feb. 19) will also be available free of charge to fans. A possible sixth game — the Little Giants' January 8th contest against Wooster may also be added to the schedule.
The games are produced by the Wabash College media center. Kyle Grand '11 and Derek Rowe '13 will serve as the game announcers. Adam Phipps '11 is the technical producer. Ben Burdett '11 is the replay operator. Chris Sidebottom '11 will handle the graphics operation. Michael Sexton '11, Michael Brown 13, and Drew Zromkoski '11 are the camera operators.
The broadcast begins about five minutes before the scheduled opening tip for each game, and can be viewed for free at http://www.wabash.edu/sports/livevideo/hoops.html