Wabash History Professor Stephen Morillo will provide historical expertise for an upcoming episode of Deadliest Warrior, one of cable television's most popular shows.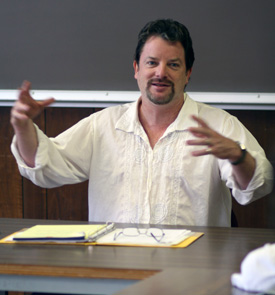 Deadliest Warrior airs on SPIKE TV and will debut its third season in late summer or fall of 2011. Morillo will be in Los Angeles this week to tape his portions of the episode.

Morrillo will be providing comment along with long-time friend, Kelly DeVries of Loyola College in Baltimore to make sure the program is historically accurate.
"I'm really looking forward to being part of such a widely watched show as "Deadliest Warrior," Morillo said. "Not only do I get to give Wabash some great publicity — the show gets almost two million viewers a week, and I bet a lot of them are high school guys! It will be satisfying to share my research interests with a popular audience and contribute to the historical accuracy of what the show does. And I have to admit, what I'm looking forward to most is seeing the testing of medieval technology. The producers have bought a replica 15th century French cannon and are building a full-size torsion catapult! Academic and cool — can't beat that!"

Morillo taped a pilot a few years ago for the History Channel on the Battle of Hastings, but that particular episode was never aired.
The veteran history professor will be sending some thoughts and photos from L.A. during the taping. Check back for updates.