Vasquez Ties Football's Development to Military
by Gabe Watson '13 • November 12, 2010

Share:
In honor of Veterans' Day, the Carnegie Museum welcomed Dr. Paul Vasquez, assistant professor of political science at Wabash College and U.S. Army veteran. In this first lecture ever held in the Museum, Vasquez gave his talk "Field Generals and Trench Warfare: The Relationship between College Football and the American Military."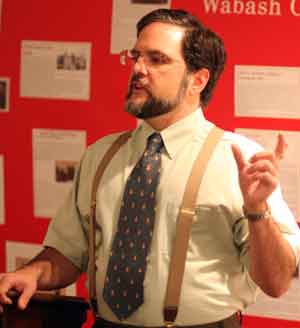 Surrounded by appropriate Wabash football artifacts from the early 1900s, Vasquez explained not only the ideological connections between football and the military, but how they helped physically shape each other.
Expanding after its inception at a game between Princeton and Rutgers in 1869, collegiate football remained most popular at universities like Harvard, Notre Dame, Wabash, and DePauw. Football was considered a high-level gentleman's game. In fact, what became the Big Ten Conference was started in 1896 to restrict the eligibility of amateur players from lower institutions.
But the sport took off as a result of the draft for World War I. Recruits of all ages began playing the sport in military camps, and its popularity soon exploded. Before long military bases like West Point began altering their entrance requirements to allow heavier men who could be more competitive on the football field during their training.
With growing competition came strong rivalries. The Army vs. Navy game was even banned for a time after threats of a duel between two players stopped a game. But football continued to grow in popularity, and the positive aspects were considered to override any intra-militaristic rivalry.
During World War II conscription continued to move collegiate athletes away from their universities of choice and towards military bases that in turn produced outstanding football teams. Experimentation with the game even occurred, once even resulting in a disorderly and short-lived game called combat football with sixty players on the field at a time.
Interestingly, radio broadcasts helped football flourish. While the prestigious private universities charged radio broadcasters for the rights to broadcast their football games, military games were considered public and were free to broadcast. The added publicity developed football as a common man's sport, bringing it to homes around the country every weekend.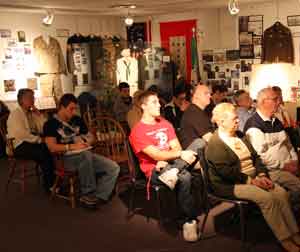 Vasquez even recalled recalled playing on his military base during his training for Vietnam. "Football reached its apex during war years," he explained. Of course football and military forces shared a need for teamwork, communication, physical fitness, and team cohesion, but even more synthesis occurred between them.
Military football programs at institutions across America promoted a war mentality on the sport that remains today. Collegiate football coaches have rarely been known to tell their teams to enjoy playing the game, but rather that there is no substitute for a victory. Vasquez argued that such intensity can be traced back to the militaristic atmosphere in which football developed.
While these direct connections between collegiate football and the military have somewhat faded in the absence of recent military drafts, modernity still maintains their relationship. As Vasquez pointed out, a recent television advertisement for the Army depicts a young man in football pads talking to his father about the military.
Vasquez revealed that beyond the obvious combative elements of football, it is a game with deep roots in the American military. Great Britain experienced similar development with its rugby teams during WWII. But truly American football is a sport unique to the American people and our military that shaped it.