Wabash Shows Fire in Dual Meet versus DePauw
by Brent Harris • November 10, 2010

Share:
A fast start with a victory in the 200 medley relay gave way to DePauw's depth in Wednesday night's 165-135 loss for the Wabash swimming and diving team. The Little Giants showed their desire to compete throughout the evening, posting some of their best efforts of the season.
View photos from the meet here.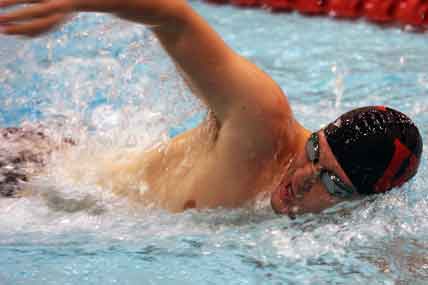 Wabash out-touched DePauw in the opening event as Charles Williams swam the last leg of the 200 medley relay, joining teammates Eric Vaughn, Evan Rhinesmith, and David Birrer. The quartet posted a winning time of 1:37.58. Freshman David Phillips followed with the first of his three individual victories, winning the 1000 free with a time of 10:03.11. Logan Falley took third in the event with a time of 10:34.13. Phillips' second win came in the 200 backstroke, winning in 1:59.84 before adding a third victory in the 500 free (4:53.96).
Rhinesmith posted a victory in the 100 breaststroke, touching the wall in 59.39. He also took second in the 200 breaststroke. Paul Buescher added third-place finishes in both events with a time of 1:01.73 in the 100 breast and 2:19.33 in the 200. Vaughn took the title in the 100 fly with a time of 52.22, while Adam Current was third with a time of 52.53.
Chad Woods grabbed second place in the 200 free (1:48.58). Birrer scored a second place finish in the 200 fly (1:56.45), while Vaughn was second in the 100 backstroke (55.30). Williams added third place finishes in the 50 free (22.56) and the 100 free (49.09). Rhinesmith was second in the 200 individual medley (2:03.15).
Divers Jake Schild and Jacob Anderson performed well for the team. Schild won the three-meter event, edging DePauw's Patrick Springer by just over one point with a score of 192.80. Anderson finished third on the high board, scoring 159.40 points. Schild took second in one-meter competition (200.20), while Anderson finished third (166.86).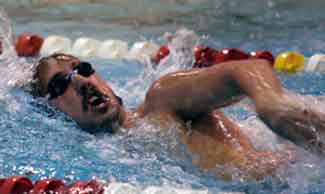 "This is a great meet because it shows our potential when we stay focused and want to swim hard. It tells us we can compete with anyone when we want to do it, and that's what we need to do on a more consistent basis," Head Coach Steve Barnes said. "On an individual basis, David Phillips was 12 seconds off the school record in the 1000 and was outstanding while pulling the triple with another wins in 200 back and the 500 free. Winning that first relay with Charles Williams touching out was a huge mental step. We got out-touched last Saturday at Rose-Hulman, so it was nice to turn the tables on DePauw.

"Chad Woods swam an amazing 200 free. He just keeps getting better and better every meet. It's great to see that competitive fire he's bringing. Eric Vaughn, Evan Rhinesmith, and David Birrer are such consistent leaders. They pop off times that make them some of the best swimmers in the country right now. The freshmen are coming along with best times as well. And Adam Current played tuba in the concert earlier in the evening, then ran over to place third in the 100 fly."

Coach Barnes has seen the type of effort his team can present and he hopes to harness heading into its next meet on November 19-20 — the Patrick Woehnker Invitational at the Class of 1950 Natatorium.

"We have to use this as a base to improve week by week heading into the Woehnker Invite. Now we need to bring as much fire the rest of the season as we did tonight."

Photos - (top left) Freshman David Phillips scored three victories for Wabash on Wednesday night versus DePauw.

(Bottom right) Chad Woods posted the fastest time of the season (1:48.58) for the Little Giants in the 200 free.




Results: DePauw 165, Wabash 135