Campaign Kick Off, Sports Fill Weekend
by Howard Hewitt • October 29, 2010

Share:
Every Wabash College home football weekend is busy with activities but this weekend's crowded calendar tops them all. The College will kick off a $60 million capital campaign, host a conference championship meet along with hosting soccer and football.
But that's not all by a long shot. Saturday is also Family Day for students and their relatives capped by a 7:30 p.m. Family Night concert with Wamidan, the Brass, Woodwind, Jazz Band, and Glee Club.

One of the College's major endowed lectures is at 4:15 today in Salter Hall. Professor of Theater Dwight Watson will talk on "An Abridgement between Nathan Dunn's and the Graveyard."
The Malcolm X Institute for Black Studies has a big weekend with a Kids Fun Fest from 3:30-5 p.m. today followed by a weekend kickoff BBQ, 5-8 p.m.
The weekend will also feature the fall National Act with digital music whiz Gregg Gillis, or
Girl Talk
, performing at 8:30 p.m, Saturday, at Chadwick Court.
Little Giant swimmers are simply getting out of town. The swim team will compete against Kalamazoo at 7 p.m. today at South Bend.
The Challenge of Excellence kickoff dinner will begin with a reception at 6 p.m. with more than 400 expected in attendance. The campaign will raise funds to support scholarships, faculty development, career development, study abroad and immersion learning.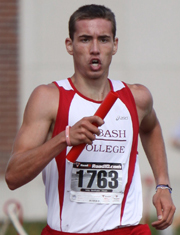 Saturday is a big day of sports highlighted by the
NCAC Cross Country Championships
. The Little Giants will host the teams of the NCAC at Southmont high school. The teams will arrive tonight with a pre-meet pasta dinner at Crawfordsville High School. Saturday's championships get underway with the men's race at 11 a.m. followed by the women's run at noon.
Wabash will be more than a gracious host. The Little Giant runners were ranked second in a pre-championship poll. Allegheny's men and Oberlin's women are the teams to beat.
The Little Giant soccer team is coming off a big win over Wittenberg and hopes to close out its season by defeating Wooster. Play begins at Noon at Mud Hollow Field. The game will be the last at Mud Hollow as it's now known. The new soccer facility where baseball used to play is expected to be in place before the start of the 2011 season.
The Little Giant football team starts its toughest stretch of the season hosting Allegheny (5-2) at 1 p.m. A win Saturday is critical for Wabash before traveling to Wittenberg next week and returning home to host the 117th Monon Bell Classic against DePauw.
You can watch the Erik Raeburn kick off show on
Wabash's YouTube channel
and here the head coach talk about this week's game.