Wabash Day 2010 - San Francisco Bay Area
by Jeff Rice '00 • October 14, 2010

Share: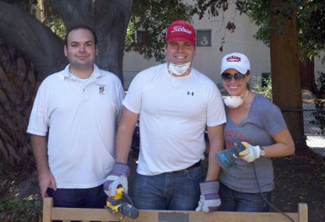 While numbers were down, Wabash Day in the Bay Area turned out to be a success. The event was attended by Khurram Tahir '01, Jeff Rice '00 and Courtney Rice. While working at the Clausen House' 88 Vernon Street location the group removed old mulch (approximately 15 wheel barrels) in the backyard and laid down new mulch. In addition, they stripped and sanded the Clausen House's antique teakwood bench. Last but not least they trimmed all hedges around the outside of the house.

As always, Peter Brooks, Director of Development was very pleased at the amount of work the group was able to accomplish in the short amount of time. They continue to forge a strong relationship with the Clausen House and are looking forward to serving the organization in the future.
Census: Khurram Tahir '01, Jeff Rice '00, and Courtney Rice.