Wabash Day 2010-Crawfordsville
by Steve Charles • October 11, 2010

Share:
In Crawfordsville, the largest single Wabash Day contingent ever—nearly 100 Wabash students, alumni, and faculty and staff—celebrated the College national day of service at six different projects across the city.
(See photos from the work in Crawfordsville here and here.)
"The big news here were the 80 student volunteers," said Crawfordsville Wabash Day organizer Herm Haffner '77. "What a day!"
Haffner said he was grateful to the alumni and faculty and staff of Wabash—Sam Smith '75, Jim Amidon '87, Chick Clements H'77, Craig Harmon '83, Brad Mullendore '69, Jim Amidon '87, John Roberts '83, and Tobey and Peggy Herzog—who supervised the projects onsite, as well as to Kim Bushong who led the painting crew.
Students worked at the local Habitat for Humanity site, the Family Crisis Shelter, Animal Welfare League, the Old Jail, Lew Wallace Study, and the Vanity Theater.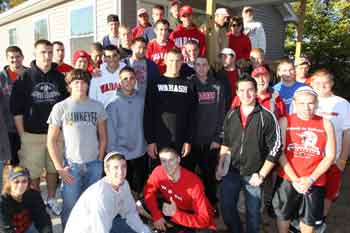 "I want to give special thanks to Bobby Wade, president of the Wabash Habitat for Humanity Club, who helped me round up volunteers, as well as all the students whose participation exceeded our expectations," Haffner said.
The eight members of the Beta house who worked at the Vanity Theater helped tear off the old stage and begin the process of building a new surface for the community theater. The worked was dirty and physical, and involved hauling in three tons of wood and supplies.
Students from basketball, track, and wrestling teams along with Sphinx Club members and volunteers from the Beta Theta Pi, TEKE, Sigma Chi, Phi Psi fraternities as well as independent students from the College Hall dormitory worked morning and afternoon shifts at the project sites.
A regular volunteer with Habitat for Humanity, Haffner played down his own role in coordinating almost 100 volunteers at six sites across the city. "I'm up on Saturday mornings anyway, so I thought, Why not?"
In photo: Part of the morning shift from the contingent of nearly 100 students, alumni, faculty and staff who worked on Crawfordsville projects for Wabash Day take a break for a group shot at the local Habitat for Humanity site.