Wabash Day 2010 - Indy, Gleaners
by John Bridge '7 • October 11, 2010

Share: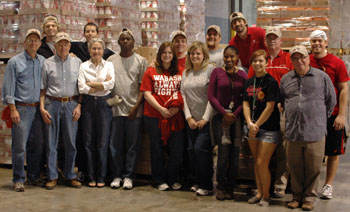 For the past five WABASH Days, men of Wabash and their families have worked with Gleaners Food Bank in Indianapolis to help fight hunger in central Indiana. This is always worthwhile as much of the work done by Gleaners is done by volunteers. In the past, we have worked at regularly scheduled Gleaners food distributions, packed boxes of food to be delivered to shut-ins, and packed bags of food to be delivered to children at schools on Fridays to take home for the weekend.
This year our talented and experienced team packed both bags of food for children and boxes of food for shut-ins. Our Gleaner's Group consisted of the following folks, covering Wabash alumni from the class of 1957 to the class of 2010: David Orr '57 & Nancy; John Bridge '72; Rick Adams '74; Eric Cavanaugh '76; Fred Miller '76; Aaron Cook '06 & Audra; Evan Wagoner '06 & Shannon; Jon Miller '08; Teye Morton '08; Taylor Larimore '09; and Brad Jones '10.
At 10 a.m. on Saturday, October 9, we all gathered at the new Gleaners Food Bank warehouse at 3737 Waldemere Avenue on the southwest side of Indianapolis.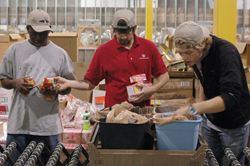 Our first assignment consisted of filling plastic bags with twelve different food items, including cartons of milk and juice, canned beans and spaghetti, apple sauce, dried fruit and nuts, and other simple but nutritious foods. We then tied the bags and packed them in corrugated containers for shipping to schools for distribution.
Our veteran team was able to complete the goal of 500 bags in one hour and fifteen minutes. With over an hour left, we were asked to help another team pack boxes of food for shut-ins. We enthusiastically blended in with that group. As one of our workers said, "We had to show them how it's done." Gleaners again was delighted by our work! And we were satisfied knowing that we had done something to help the hungry people of central Indiana.