Wabash Day 2010 - Greenfield
by Kyle McClammer '08 • October 11, 2010

Share: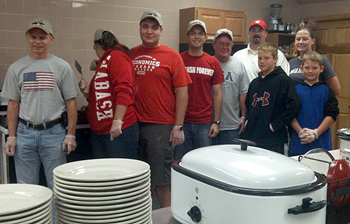 In Greenfield, IN, nine Wabash men and their family members gathered to host a pancake breakfast at the Kenneth Butler Memorial Soup Kitchen in downtown Greenfield. The breakfast served a dual purpose: feeding those in need and collecting donations for the soup kitchen from those who could afford to contribute something.
We served breakfast to approximately 65 people and raised almost $200 for the day-to-day needs of the soup kitchen.
John Higgins '09 and his wife, Amy, handled taking orders and directed the pancake flipping. Ed Scahill '70 volunteered to tackle the dishes. Kyle McClammer '08 and his dad prepared sausage patties and helped getting trays ready to serve. Jason Shelton '96 and his family helped out all over the place, with his two sons, 8 and 10 years old, even advertising the breakfast to folks passing by outside at the annual Riley Days Festival.
All in all, it was a great team effort!