Little Giants Meet OWU In NCAC Football Tilt
by Brent Harris • September 17, 2010

Share:
Wabash hits the road for the first time in 2010, traveling to Delaware, Ohio for Saturday's 1 p.m. kickoff at Ohio Wesleyan University.
The Little Giants opened the season last weekend with a 21-17 win over Wooster at home. Sophomore quarterback Chase Belton threw for 250 yards and two TDs and ran for 81 in the victory. Sophomore Jonathon Koop secured the win for Wabash with an interception as Wooster was driving near midfield in the final minute of the game.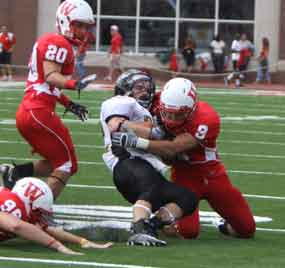 Wes Chamblee caught the first touchdown pass, a 72-yard for the first score on the newly-dedicated FieldTurf at Sewell Field. Jonathan Horn added a 23-yard touchdown late in the first quarter. Tommy Mambourg's two-yard run provided the final margin of victory.
Sam Smith (right) made a career-high 12 tackles while also posting his first career interception. Smith added a fumble recovery to earn a place on the D3football.com Team of the Week.
Wabash (1-0, 1-0 NCAC) plays at Ohio Wesleyan for the first time since defeating the Battling Bishops 15-0 in 2007 at Selby Stadium. Matt Hudson '10 came off the bench in that game to throw for two second-half touchdowns after the Little Giants took a 2-0 lead with an early third quarter safety. Wabash owns an 18-13-2 advantage in the overall series. The Little Giants are 6-0 versus OWU since joining the NCAC.
Ohio Wesleyan (0-2, 0-1 NCAC) suffered two straight losses to start the season — a 21-6 loss at Denison and a 54-0 defeat at Wittenberg. Eight starters return from last year's squad that finished 3-7.