International Student Population Grows to 55
by Howard Hewitt • August 24, 2010

Share:
As members of the Class of 2014 near the end of their new student orientation, 15 international freshmen finish the second week of their introduction to Wabash College.
Wabash will have 55 international students this fall, the biggest number in the College's history according to Director of International Students David Clapp.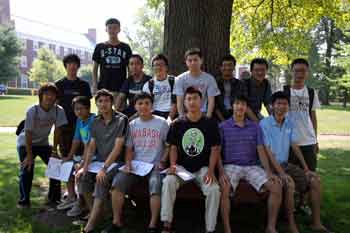 The trend at Wabash has had a definite Asian feel with students primarily from China and Vietnam. Eight of this year's International freshmen are from China with three from Vietnam. Clapp expects 27 of the 55 students to be Chinese nationals this fall.
"Wabash is entering a new era of emphasis on Asian Studies, highlighted by offering Chinese language this fall and the planning of other courses with an Asian emphasis in departments such as Economics, History, Political Science and Religion," Clapp said. "This increased diversity of our student body more nearly reflects our emerging American society and helps to make our campus reflect the world's population. Chinese students are like mirrors for us reflecting China to our campus for those who have never been to the country."
The international students interact with the community through the Community Friends program. Many stay on campus during the summer months.
"All of these young people pay us an enormous compliment at their young age to travel half way around the world to study in a very different environment," Clapp said. "They really want an excellent education, and they are willing and able to pay their fair share."
In photo above, this year's Freshmen International students: Back left top, Alex Zheng; Back row: Shun Umehara, Weijie Shi, Ky Tran, Shijie Guo, Aronno Haque, Anh H B Nguyen, Haoyu Li; Front row: Inbum Lee, Daoming Che, Shangqing Li, Long Pham, Xiaodong Hou, Anh Le Nguyen, Ye Yuan.