Grand Rapids Group Out to the Ballgame
by Fred Trebleone • August 20, 2010

Share: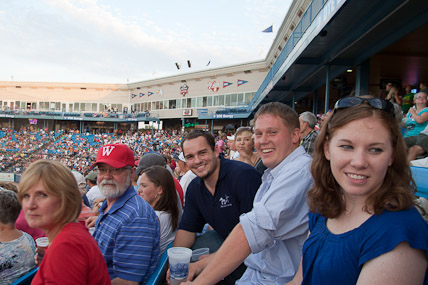 The Grand Rapids Association of Wabash Men enjoyed a great evening of fun and baseball as they gathered to cheer the West Michigan Whitecaps on to a come-from-behind victory last Thursday evening.
Marc Welsh '99 from the Wabash Admissions office joined the group after spending a part of the day visiting a high school.
The Whitecaps drew a great crowd, especially for the Thursday night. To add to the fun, it was Country night at the Fifth-Third ballpark.
Hats off to event organizer Matt Abid '04 for a great turnout, especially by younger alumni. Believe it or not there were twice as many graduates from the Classes of the last 15 years than all others combined! Thanks Matt!
Thanks as well to Jay Fisher '66 for taking time off from his busy schedule to show Tom Runge, Alumni and Parent Relations staff member, around the area.
Photo: Kathy Cragwall, Jay Cragwall '69, Matt McKay '06, Justin Vander Iest '06, and Misty Vander Iest.
For a few more photos, click here.