2010 Colloquiums: Dean Reynolds Inside the News
by Public Affairs Staff • June 4, 2010

Share:
Vic Hasler '60: History in Bloom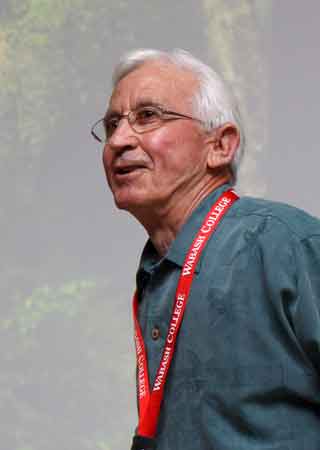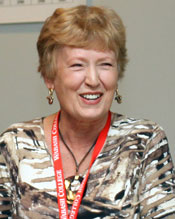 Vic Hasler '60 and his wife Karen Cochran's 19th-century Italianate farmhouse and garden in rural Johnson County provide more than one of the most picturesque settings in the state—they are a window to the state's history, and to the beauty the Indiana soil can serve up when two people restore, nurture, and love the land and place in which they live.

The couple offered Big Bash attendees an hour-long virtual tour of that place at Friday morning's opening colloquium, History in Full Bloom.

A retired executive who traveled to more than 40 counties during his career with Eli Lilly and has since logged thousands of miles on his bicycle, Vic admitted that he wasn't even in the market for a house when Karen was nudged by a realtor friend to take a look at the historic farmhouse in the 1990s.

"Karen loved the place," Vic said as he displayed current photos of the home on the screen behind him which made that love easy to understand. Vic said he "was taken" with the various outbuildings, but the bigger draw may have been the home's history, which Vic summarized in the larger context of important events in the state. The house itself had its ups and downs—from prosperity in the late 1800s to tough times in the early 1900s.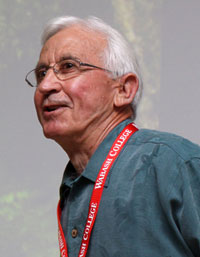 "It got to the point they had an indoor chicken house in a room upstairs," Vic said.

When it came Karen's turn to take over the presentation, she noted that she and Vic often gives a talk on the state's history to fourth graders.

She smiled. "That, in part, is what Vic just gave you."

Karen focused on the home's interior, which itself is a lesson in history ("At one time the house had a clock in every room; the more clocks you had, the richer you were.") and includes a Wabash connection ("I have a couch upstairs that was in the Beta house").
Then she turned to the many gardens which Karen has nurtured and for which the house is best known. (The home and its gardens have appeared in Better Homes and Gardens and Indianapolis Monthly magazines, among others.)

The next 10 minutes were a session with a master gardener, as Karen introduced the audience to the various species of flowers and trees, punctuating the descriptions with anecdotes and tips.

One of the flowers she "showed" attendees—symbolic of her careful stewardship of the place, and seemingly of Vic and Karen's relationship itself—was the rose bush given to her when she and Vic were married, moved from house to house, and still blooming after 49 years.

—Steve Charles

Todd Rowland '85/Phil Dulberger '85: "Putting Doctors in Charge Again"
As physicians, Drs. Todd Rowland '85 and Phil Dulberger '85 understand the current healthcare system is broken. In their Colloquium sessions titled "Putting the Doctors in Charge Again: Improving Regional Health Care in the Next Decade" they described different projects with which they are both involved that will help control medical costs while still providing quality care.
Dulberger, who is currently CEO of Clarian Quality Partners in Indianapolis, hears the same story from many of the employers he meets, "If we don't control our healthcare costs we are going to have to cut other critical areas of our budget."
His initiative, Clarian Quality Partners, works on the idea of "accountable care" moving from fee for service to a global perspective where all pieces of healthcare are connected around the patient, and connected electronically. The 2,000 physicians across the state who currently belong to Clarian Quality Partners agree to adhere to best practice models and allow themselves to be monitored by other partner physicians.
This accountability allows physicians to have meaningful dialogues about ways they can each work decrease healthcare costs individually and as a group. That's music to insuring employers' ears.
Rowland is the executive director of HealthLINC in Bloomington. "Doctors see 900 new pieces of information every week and sometimes two or three times each – that's 3,000 new pieces of information." For physicians to continue keeping this information in a paper charting system is nearly impossible.
"Doctors using EMR (electronic medial records) say, 'I can get to my information anywhere.' It's what people who have been using e-mail have been able to do for years, but physicians haven't had a ready access until now."
While trying to get buy-in from both "sellers" (physicians) and "buyers" (patients and employers), Dulberger described the biggest barrier being "it's so simple, it's hard." — Kim Johnson
Dean Phillips: The Wabash Curriculum: Continuity and Change
Dean of the College Gary Phillips took alumni and their guests on a stroll through the history of Wabash's liberal arts curriculum beginning with the classical (and strict) requirements of 1840 and ending with changes currently underway to better align the curriculum to the mission and core values of the College.
He said faculty and administrators are in the midst of careful assessment and change, which he described as "What we constantly do, but which we've done in an accelerated time frame" due to the economic realities of today.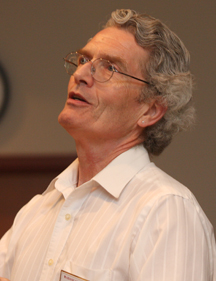 He described for Big Bash attendees the four overarching mission goals guiding the work: excellence in teaching and learning; independent intellectual inquiry by students and faculty; appreciation of the changing nature of our global society; and providing analytical skills and judgment necessary to adapt to constant change.
Also guiding the curricular reform are two data-drive resources — the National Survey of Student Engagement and the Wabash National Study of Liberal Arts Education. The Wabash National Study has revealed three primary areas that lead to dramatic change and improvement for Wabash students: high academic challenge, high quality student-faculty engagement, and diversity of experiences (intellectual and social).
"We know that these are the things that move students over time," Dean Phillips said.
He also indicated that study data has revealed that in most institutional settings the majority of male students show regression in their first year of college.
"But Wabash students don't regress," the Dean said. "In the areas of moral reasoning and critical thinking skills, Wabash students change positively in their first year at the College."
Dean Phillips briefly described the creation of a new all-College course called "Enduring Questions," which will be put into place in the spring semester of 2011. The course will follow freshman tutorials in the fall semester, and build upon the fundamental questions of humanity. Enduring Questions will replace the all-sophomore course, Cultures and Traditions.
The Dean also talked about pedagogical changes over time, including a significant shift from lecture to seminar style teaching and a significant increase in independent study courses, both of which put pressure on a faculty, which will be reduced from 82 full-time positions to 74.
As an example of the interdisciplinary change underway at the College, he cited the psychology department, which has experienced a complete turnover in faculty in the last 10 years. As a result, the department's focus has shifted to involve a good bit more science, and a new neuropsychology course has been developed. Professor Neil Schmitzer-Torbert's receipt of a $300,000 national grant that will fund three student research assistants for each of the next three years is clear evidence of the department's transformation.
"There were only 30 awards of this type presented nationally, so it recognizes the Wabash psychology department and the science being done in it as of the highest quality of the most important kind," the Dean said.
Another major shift over time, he said, has been the amount of research done by faculty, in which faculty work directly with student researchers. Students involved with faculty in the same research over several years then become teachers and mentors to younger students, which enhances their experience. More than 100 students are involved in summer internships on campus.
Increasingly the College is using Immersion Learning Courses — intense, week-long trips that are tied directly to classroom work — as important pedagogical opportunities.
"We had a student from Montgomery County who had never been outside the state travel to Berlin last fall," Dean Phillips said. "Just imagine that young man speaking German for the first time in Berlin and you get a sense of the transformation made possible by trips like these.
"With immersion Learning Courses, you get your nose rubbed into the reality of another world. And that's an important way our students learn."
The Dean summed up by saying the work on the curriculum is always ongoing, but that the financial crisis of late 2008 and the current realities made the work more urgent.
"I'm proud of this community's response to changes on one wanted, but were suddenly upon us. And this response came with the students as the focus of the work." — Jim Amidon
Henry O'Connell '75: "Small Business in America"
Henry O'Connell was a two-time All-American cross country runner at Wabash and later qualified for the United States Olympic Trials in the marathon. It's that dogged, long-distance approach that has made him a successful corporate executive and more recently an entrepreneur and leader of several start-up firms.
He's been able to weather the frequent storms that confront and confound many start-up companies, but he's also able to see the finish line.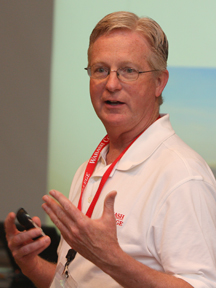 O'Connell was the founding CEO of
Millenniata
, a Utah-based technology company that in November began selling a new digital video disc and writer, which are believed to protect data for up to 1,000 years.
While leading a Big Bash Colloquium talk on the occasion of his 35th class reunion, O'Connell talked about his experiences in starting Millenniata — helping turn a concept into a product — provide a great example for Wabash students interested in starting their own businesses.
"Small businesses and start-ups are the engine that drive the American economy," said O'Connell, who spent four years at the National Institutes of Health before entering the corporate world, first with Hewlett Packard. O'Connell has managed companies in the U.S., Europe, and Asia, and has started three technology companies.
Small businesses employ over half of all jobs in the private sector and pay 44 percent of the nation's payroll. "There's not been a time in our history when we've needed small businesses more than today," O'Connell said.
He offered a number of keys to success in small business and start-up companies. First, he said, you need to "do what you know or like, or quickly become an expert."
Given his successful track record as an athlete, he used a personal analogy to describe his approach to business — good preparation.
"I ran in my first marathon four years after I graduated from Wabash. I eventually ran sub 2:20 and qualified for the U.S. Olympic Trials… It was not the first time I had stepped on the road. I had run a lot of grueling races to be in a position to make the Trials."
He had done plenty of homework when he began with Millenniata, which capitalized on technology developed at Brigham Young University. He learned that 38 billion DVDs are sold each year, each with a substantial profit margin. He also learned that re-writable DVDs begin to degrade in their first year of use and do not provide serious archival storage options.
"In today's economy, you first need to find a market, recognize the need, then create the product to meet the need," said O'Connell, who today serves as a member of the Board of Directors of Milleniata.
The
Millennial Disc
utilizes new technology and equipment involving 32 new patents. The technology does away with reflective surfaces and ink layers. Instead, the carbon-metal-carbon layers are encased in two addition protective layers, one that protects the data and one that protects the disc itself. The result is what is believed to be the first true archival DVD product on the market, which has libraries, museums, and history buffs excited about the future.
It's been a long haul, though. O'Connell talked about investing nearly half a million dollars of his own money and "living lean" for long periods of time; the distance runner's mentality clearly evident. In the end, though, some of his best advice to his Wabash brothers, including members of the College's Business Leaders Program, is to maintain a sense of humor.
"I think humor is tremendously important in a start-up since every day, every month is so stressful," O'Connell quipped. "Starting a company requires so much personal investment, that you just have to retain a sense of humor in order to be successful." — Jim Amidon
James Ray '95: The Richest People in the World are Closet Truckers
Jim Ray '95 is a third generation trucker. His Grandfather, Mel Ray bought his first truck in 1938, and his father, Jim Ray, Sr., owned and operated trucking companies in brokerages, warehouses, and third party logistics companies.
After working through school on dispatch floors and shipping offices, Jim attended Wabash College then law school and became a member of the Bar of Illinois. On January 1, 2000, Jim started his first company. The company has grown exponentially into an organization that owned brokers, trucking companies, and a third party logistics provider.
In June 2009, he sold his largest company, Raytrans Distribution Service, Inc. to Echo Global which assisted them with a successful initial public offering. In his colloquium title "The Richest People in the World are Closet Truckers" he discussed distribution as the ultimate success or failure for company success – from Standard Oil to Walmart to Google.
"More than any other factor, every great empire succeeded – and failed – based on their distribution networks."
Todd Moore '80: What's New About the News?
D. Todd Moore '80 was not shy telling Big Bash attendees what they might have thought he'd deny.
"Newspapers are going to go away," the Indianapolis Star's Administrative Editor said. "We now call ourselves Star Media. We're an information company. We're in a period of transition not extinction."
Moore's Friday afternoon Colloquium focused on the future of newspapers. He graduated Wabash and went to work at the state's largest paper as a photographer. He moved into technology in the 1990s and then into administration handling logistics for today's newsroom.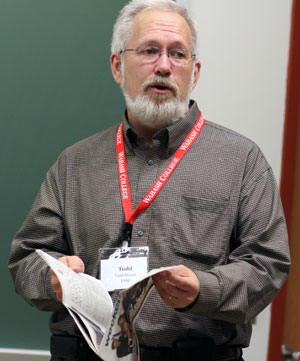 He used slides, quotes, and information to show why a current newspaper's content is relevant and why it will translate to new media. People want credibility and quality in information and that is where established news organizations can continue to succeed where user-generated information sometimes fails.
"Demand has never been greater," Moore said. "We had 629,000 hits on
IndyStar.com
two days after the race (The Indianapolis 500)."
Moore noted The Star's web site regularly hits 1 million views a day and on race day itself reached 2.5 million views.
He used a timely news story to make his point about credibility and experience. Some media outlets had reported Thursday night that legendary UCLA Coach and Hoosier John Wooden had died. The Star decided not to go with the story and it turns out the Coach remained hospitalized Friday.
That information can be delivered on expensive newsprint, which he believes will disappear eventually, or in a digital format for frequent updates.
It's the expense of doing business and the emergence of the internet which has clobbered newspapers nationwide. Newspapers had a long history into the early 1990s of being extremely profitable, he said. Newspapers were often dismissive of the internet when it started to take off.
"We were sitting fat and pretty much making big bucks. I didn't think the internet was going to affect us that much."
Today, The Star has an application for the iPhone and iPad. Internet classified sites like Craigslist have taken up to half of some newspaper's classified advertising. The business model isn't working any longer because of the expense of printing the news product. For the Indianapolis Star, the newsprint and ink expense is approximately $14 million annually.
The Star will elect to focus on local news, information, entertainment, and the traditional newspaper role as the watchdog of government. The difference will be delivery will include all platforms: Internet, mobile, tablet, and print. — Howard W. Hewitt
Ross Zumwalt '65: CSI: Fact or Fiction?
Ever wondered how much of what you see on CBS-TV's popular CSI crime dramas actually squares with crime scene investigation in the real world? Big Bash attendees leaving New Mexico Chief Medical Investigator Dr. Ross Zumwalt's colloquium session CSI: Fact or Fiction Friday afternoon can tell you exactly how much.
One of the foremost practitioners in the nation, Zumwalt '65 offered an insider's perspective on "what is fact, and what is crap" when it comes to the CSI series' presentation of modern day crime scene investigation—an informative, entertaining, even humorous hour with some serious undertones for the future of medical investigation in the U.S.
"In CSI, there's a lot of factual stuff that they just stretch a little," said Zumwalt, whose own medical investigations include the hanta virus cases of the early 1990s. "But sometimes they get into science fiction, and occasionally using some yet-to-be invented technology."
Opening with the quip, "As unaccustomed as I am to speaking to a live audience," Zumwalt presented synopses of cases from the various CSI series (which include CSI, CSI: New York, and CSI: Miami), then isolated a technique used by CSI team members and asked the audience, "Is if fact, or is it crap?" After sufficient time for suspense, Zumwalt followed his answer with an explanation of how crime scene investigation really works.
There were some surprises:
On CSI, DNA is often analyzed within hours. In fact, DNA can be analyzed within three to four days at the earliest.
On CSI, investigators match their DNA analysis with a database that can match samples with people who have been convicted of sexual offenses or violent crimes. That one's true: the Combined DNA Index System (CODIS) has been in existence since 1990.
On CSI, investigators are able to exactly identify the weapons used in the commission of a crime, as if every firearm imprints a distinctive, unique signature on the bullets ejected. In fact, while that statement is mostly fact, there is insufficient data on the variability between individual guns, and the marks on bullets may be too minor for a match to be conclusive.
CSI's teams are able to detect the type of perfume left in the air during a crime: fiction.
CSI teams extract vitreous humor from victim's eyeballs to determine time of death: true ("We use vitreous humor for all sorts of tests," Zumwalt said. "We love it!)
This mix of fact and fiction on the TV series has created what Zumwalt and his colleagues call "the CSI Effect." Disinformation creates unrealistic expectations in victim's families, who expect immediate results, and juries, who expect every aspect of a crime to be analyzed, regardless of the circumstances, before they'll convict.
On the other hand, the shows have create a surge of interest in the profession, and medical examiners (who make a fraction of what most other medical specialists make), are in increasingly short supply.
Zumwalt's final "fact or fiction" question hit home with the audience and proved the funniest: "Do all medical examiners look as good as those actors on the CSI series'?"
"That," Ross grinned, "is a fact." —Steve Charles
Dean Reynolds '70: Inside Today's News
CBS News correspondent Dean Reynolds '70 captivated a big Wabash alumni crowd Saturday afternoon with stories of his around-the-globe television news career.
Sharing anecdotes, memories, presidential campaigns, international reporting, and a strong dislike for today's opinionated cable news networks, Reynolds detailed a career that has taken him to all points around the world and earned him three Emmy Awards.
"There were two institutions formative for me," Reynolds said. "The first, of course, was Wabash College that gave me the seeds that have been blossoming ever since. I can't tell you how many times I've been on stories and thought 'this is why Wabash taught me this stuff.'"
The second formative institution was United Press International, his first employer. His first job with the old news service taught him how to construct a story. It was from that platform that he proceeded to talk about today's "opinionated news" and his particularly strong feelings about operations like Fox News and MSNBC.
"I guess you could call this journalism, but I was brought up in a different world," he said. "To me a good story is a good story no matter how it comes out in the end for the good of the right or the left."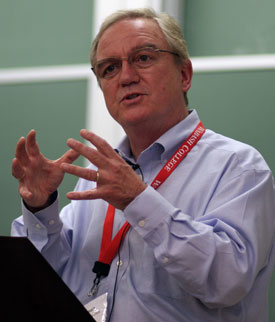 He lamented budget cutbacks and American's general lack of interest in international affairs, which he described as intellectual laziness. He used 9-11 as an example, citing the number of people who would ask him why the U.S was so hated around the world. Reynolds said the answer was out there for people to easily find but it required effort.
National newscasts today do not devote much time to international affairs beyond the headlines because such news does not translate to ratings and revenue.
"Watch how quickly it disappears from the news" after a major story is reported, he said. "We are in the era of opinion journalism. We have to have two sides opposing each other. It's easy, it's cheap, and it's dumb."
He did suggest the traditional network news still attempts to cover the whole story, something "you won't find on cable."
Reynolds talked about covering Ronald Reagan, Barack Obama, the Oklahoma City bombing, the Palestinian uprising, and other major stories during his long career.
"I've been privileged," he insisted. "I've been able to witness these things and meet many people of different cultures. I've been blessed. And men of my age aren't too numerous in my business these days."
And he told the gathering he was about to sign a new three-year contract with CBS news to continue to report the news from him home base in Chicago. - Howard Hewitt
Omar '60 and Clay '97 Robinson: Creating and Operating Sun King Brewery
Sun King Brewery
was a long time in the making and a liberal arts-based journey for a father-son business team. Omar '60 and Clay '97 Robinson now watch over a popular and growing entrepreneurial business in Indianapolis.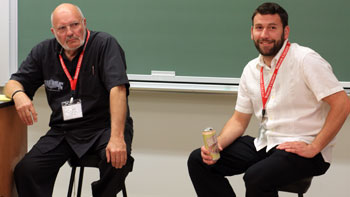 Omar has spent a life time running businesses, starting businesses, and consulting with big businesses. Clay was a Wabash Rhetoric major who has spent most of his post-Wabash days in the restaurant businesses and as a beer brewer.
The older Robinson started Saturday afternoon's colloquium with anecdotes of his life and time and Wabash. He introduced his son as the 'smooth talker with a degree in Rhetoric from Wabash College" as the brewer.
Clay had been the head brewer at popular Indianapolis restaurants Rock Bottom and RAM before quitting to follow his dream. "The way brewing works really works well with my mind," he said with a laugh. Omar would constantly review the business plan and details while Clay looked for equipment and thought about the product.
Finally in July of 2009 Sun King Brewery started making beer. They had two accounts in August of last year but the product has been better than well-received, it's flying off the shelf with accounts begging to carry the product. It's now distributed in Indianapolis, Lafayette, and Muncie in many restaurants and liquor stores. Omar said the distribution includes 30 liquor stores with 50 more on a waiting list.
They produce four styles of house brews and other seasonal or specialty brews.
The business explosion really started, Clay said, when he started using social media tools Facebook and Twitter to promote his business.
Product can also be purchased at the brewery with is open 5-7 p.m. Thursdays, 3-7 p.m. Fridays, and 1-4 p.m. Saturdays. "We're located at Wabash and College in Indianapolis," Omar said. "You can't get any better than that." - Howard Hewitt