Behind Bash: Runge Describes 18-month Process
by Kyle Bender '12 • June 3, 2010

Share:
For Tom Runge '71 and his staff at the Alumni and Parent Relations office, Big Bash weekend could easily be described as their biggest event of the year.
"Big Bash has really evolved into an 18 month cycle — working with class members to organize the event and then following up afterward," Runge said. "Even now as the final touches are being put on this year's Bash, we've already started work on next year's event."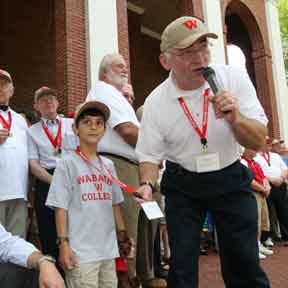 Over the years, Runge has found there isn't much his office can do to get alumni to return to campus for Big Bash. Rather, it is often the work of a pledge brother or classmate that leads to many graduates attending the event.
Trippe Matthews '65 used this approach to get his Phi Delta Theta pledge class to the Bash. "After almost one year of harassment, calls and emails, I have commitments from 16 of my 20 pledge brothers to return to the College," he wrote.
Runge gave credit his staff — Mike Warren '93, Michele Tatar, and Heather Bazzani — for the months of hard work they have put in to make the annual weekend a success. He also is continually amazed by the Bon Appétit food service staff, who will feed roughly 700 people at 11 different locations for Saturday night's reunion dinners, and the Campus Services team, who set up and tear down for the many scheduled events.
"It truly is a total campus effort," he remarked.
Runge will spend much of the weekend one step ahead of the activities to make sure last-minute preparations have been completed. He and Warren will also host the Big Bash Banquet Friday evening, when the Class of 1960 will be presented with their 50th reunion medallions.
"Our goal is to make it as easy as possible for guys to come back to campus and have a good time," Runge said. "That is our whole focus. We prepare packets for those attending that have everything they will need for the weekend. We just want them to enjoy being back on campus."