David E. Kendall '66
Doctor of Laws
May 16, 2010
David E. Kendall, Wabash College welcomes you back to campus and celebrates your life of extraordinary contributions to law and society. Born at Camp Atterbury, you grew up in Sheridan to become a summa cum laude graduate of Wabash. Your Hoosier roots run deep, though you have indeed spread your wings and soared far from these hallowed halls of Wabash — as a Rhodes Scholar at Oxford University and to Yale Law School.
When you stood on this ground 44 years ago speaking to your fellow graduates, you provided a glimpse of how you would lead your life. You said, "We need commitment because beliefs should not be separated from knowledge, and values are not separated from actions… Men themselves, not God or history, bear the responsibility for what they are and for what their world is… Our business as graduates of Wabash College… should be to struggle against cruelty and injustice for what ought to be, in the full cynical knowledge that our achievements will never be all we could wish them to be."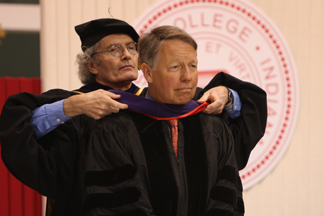 Even before you uttered these words, you were living their full import. While still in college in the Freedom Summer of 1964, you worked to register voters in Mississippi in a place and time when the simple exercise of a legal right could lead to threats, violence, and murder. You were arrested several times and suffered the loss of friends and colleagues, but you persisted in the work that shaped a generation. You have since never been afraid of taking an unpopular stand.
After clerking for Supreme Court Justice Byron White and service in the United States Army, you joined the staff of the NAACP Legal Defense Fund, which you continue to serve as a board member to this day. Your values and commitment to resolving injustices were evident when you successfully argued before the Supreme Court of the United States to overturn rape as a capital crime in the landmark case of Coker v. Georgia, and in your lifelong pursuit of the abolition of the death penalty.
A long-time partner at Williams and Connelly in Washington, your legal experience ranges from Constitutional law, specifically First Amendment freedoms, to issues unimagined by the Founding Fathers, such as intellectual property and copyright in cyberspace. Over time, you have represented clients ranging from the Washington Post to the National Enquirer on First Amendment cases; Baltimore Orioles owner Peter Angelos in a naming rights case; President William Jefferson Clinton through the independent counsel investigation and in his Senate Impeachment trial; and recently the motion picture and recording industries in copyright and intellectual property cases against file-sharing start-ups like Napster and Grokster.
As a graduating senior from Wabash in 1966, you said, "Education should be a continuing process, however, the aim of which should be to enhance our awareness, enlarge our rationality, and awaken our imagination." You have modeled that ideal throughout your life, continually shifting the focus of your practice in order to seek justice and to stay connected to the most important issues of our time.
Wabash is proud to honor you today for your values, your leadership, and most of all, your lifelong commitment to justice and service in the public sphere. Therefore, by the authority vested in me by the Board of Trustees of Wabash College and delegated to that Board by the State of Indiana, I do hereby confer upon you the degree of Doctor of Laws, honoris causa, with all the rights, privileges, and responsibilities thereunto appertaining, of which this citation shall be a permanent witness.