Professor Sayre Awarded NSF Grant
by Steve Charles • April 9, 2010

Share: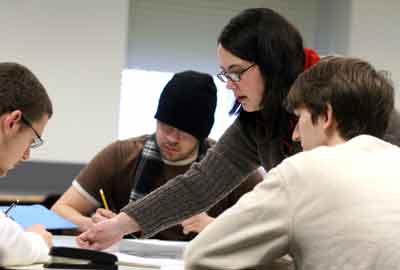 Professor Eleanor Sayre says the explosion of knowledge in the sciences is "like a bag of popcorn.

"Each kernel explodes outward, but the bag fills up," the visiting professor of physics and Grinnell College grad says. "Yeah, the knowledge is exploding—but we're finding new ways to fill in the gaps."
Sayre's research at the College in physics education is filling in those gaps with understanding, even as it brings Wabash students working alongside her into their own explosion of science. The recipient in January of a $130,000 grant from the National Science Foundation, Sayre is blending cognitive science, an innovative methodology linked to a Web-based survey system, and a deep understanding of the "language" of physics to study how students learn—and sometimes forget—important concepts in calculus-based introductory physics courses.
"From an instructional standpoint, it's just as interesting to see if students have learned something and forgotten it as it is to see if students have learned something," Sayre explains. "I'm looking at how a class of students changes and learns or forgets during instruction."
When the study is up and running, students will go online to perform one of several tasks which will not only feed data to Sayre and her collaborators at the Rochester Institute of Technology, but also give professors feedback on what their classes are learning and retaining.
"It will report in real time so the professor can see as they teach just how much their students know about every topic in the class," Sayre explains. "It's very powerful, but we're not telling the instructor how to teach. We're giving them the tools to be more effective teachers, however they see fit."
While Wabash introductory classes won't be included in the initial study (Sayre's methodology requires larger class sizes!), Wabash students benefit both directly and indirectly from the research. Two students are already at work on the project.
"One of my students, Tyler Koch '12, is writing version 1.0 of the Web-based system, working with a student at RIT. The goal is to make enough progress this spring so they can jump feet-first into coding this summer," says Sayre.
Freshman Tianren Wang is helping to determine how to analyze the data, looking at paper survey samples gathered in preliminary research.
"Last week he did some more data cleaning and turned up some graphs that are probably going to make a publication," Sayre explains.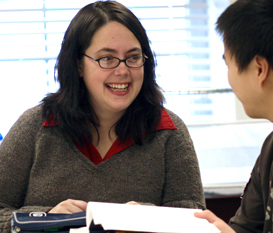 "This is good stuff for students. Tianren is way ahead of the game—if he were a junior or a senior doing this work, he'd be extremely attractive to grad schools. And the stuff Tyler is working on makes him exceedingly interesting to employers. Having worked on a large-scale research project like this means he is well-prepared for working on a large team in grad school or industry. He's learning project management. It's a pretty sweet line item on his resume."
"Ellie Sayre's grant-supported work with our physics students illustrates the close connection between teaching and scholarship," says Dean of the College Gary Phillips. He notes that Sayre—whose position at Wabash is supported by a grant from Lilly Endowment Inc.—is applying her expertise in physics education to the Wabash curriculum even as she conducts her research under the NSF grant.
"The focus of her work at Wabash is assisting the physics department in shaping its upper-level course offerings to improve student learning," Dean Phillips said. "Very few trained physicists are skilled in the assessment work that she does. Supported now by NSF funding, Ellie is organizing a regional conference this summer on the teaching of physics to be hosted at Wabash. Her grant is an acknowledgement of the national importance of improving student learning in the sciences and of her skill and success in doing so. She brings important recognition to the College, and we are fortunate to have her and her family here at Wabash making an important difference."
Asked to speculate as to why NSF is so interested in her work, Sayre says the foundation is anxious to "understand how people learn, how we can help them learn better, and how do we prepare our citizenry and workforce for future problems.
"This study is measuring something we've never measured before, but it has great potential to be one of those things that, once you've measured it, you can't imagine going back. I think NSF likes that."