International Expert Crook '69 to Receive Peck Tonight
• April 9, 2010

Share:
John R. Crook '69 will be awarded the David W. Peck Senior Medal Tuesday by Wabash College. Crook is a lecturer at George Washington University Law School and has had a distinguished career in international law.
Crook will give a public lecture at 5 p.m., Tuesday, in Baxter 101, before the annual Peck Banquet. The title of his talk will be "International Law Matters."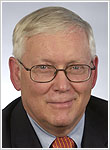 "Mr. Crook's lecture is a rare opportunity to hear from a person who has played a central role in key events that have shaped our world," said Political Science Professor Scott Himsel. "John Crook is the epitome of what the College looks for in a Senior Peck Medalist: superb academic credentials and significant impact on the profession - in this case, worldwide impact. That Mr. Crook is one of our own makes all of these accomplishments even more meaningful."
Crook has a substantial resume of accomplishment. He currently lectures at George Washington along with acting as editor for "Contemporary Practice of the United States Relation to International Law, American Journal of International Law. He is an appointed arbitrator on a five member war claims commission established by Eritrea and Ethiopia in The Hague. He's a consultant on international law.
During the early part of this decade he was general counsel for the multinational force and observers directing all legal work for a 2,200 person, 11-nation peacekeeping force operating in the Sinai Desert in Egypt under the Treaty of Peace between Egypt and Israel. He served as an Assistant Legal Advisor for U.N. Affairs, U.S. Department of State from 1995-2000. In the early 90s he was Counselor for Legal Affairs for the U.S. Mission, Geneva.
The David W. Peck Awards Banquet has been held each year since 1974. The event was established by long-time Trustee John P. Collett '24 in tribute to his dear friend and fellow Trustee David W. Peck '22. Peck enrolled at Wabash at age 16, graduated at 19, and had finished Harvard Law School by 22. He had a long and distinguished career as a judge and partner in the New York law firm of Sullivan and Cromwell.