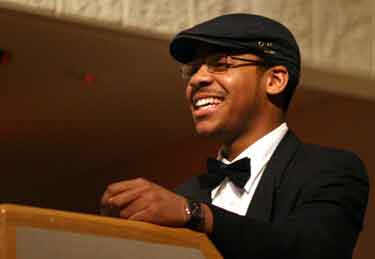 They billed the evening as an "informative and entertaining lesson on The Young Black Male," but the men of the Malcolm X Institute for Black Studies could have called it "Event Organizing 101." Rarely has a program drawn so well on the gifts of its members to inform and inspire—through poetry, gospel music, humor, and informative, challenging, inspiring, and honest talks—as this session devised by Tyler Griffin '13 and emceed by "Professor" Rashaan Stephens '13.
"I'm proud of you guys right now," Assistant Professor of History Tracey Salisbury said to the organizers in her concluding remarks.
(Click here for a photo album from the event.)
In character and tongue-in-cheek as an English professor with a mythical Ph.D. from Harvard, Stephens introduced the first of four speakers, Assistant Director of Admissions Kim King '99.
King suggested ways students could embrace work, culture, and liberty and more fully invest in their lives as students at Wabash.
"Work, for the black student, means developing the disposition of motivating yourself," he said. "You need to develop the disposition of motivating yourself even when you're not motivated. When a guest lecturer is on campus in whom you're not much interested in, challenge yourself to attend. This will create the disposition of getting involved, which in turn helps orient you and the culture of the campus around one another more robustly. Culture means embracing your status as thinkers, as part of an elite class of people who have the opportunity in College. Liberty dares the black student to dream, to dream in full belief in his human potential and creativity.
"The black Wabash man, simply by being here, has already chosen the path less taken. Now the challenge is to dream just a bit more—to continue to dream uncommonly."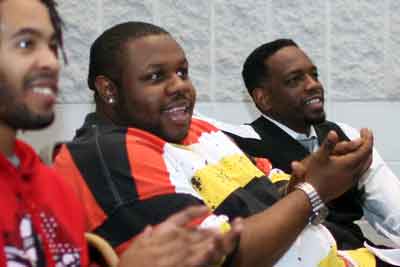 "Dr." Reginald Steele '12 led the audience in singing the gospel tune "This Little Light of Mine" before Brandon McKinney '10 read from his poem ("Pay homage to those who walk this broken path before me/their struggle was not in vain, and their accomplishments are many… Black history is our history/it is America's history, and we must fight to preserve it…As we embark on our daily journeys/we are blessed with the strength of ancestors.")
Head Track Coach Clyde Morgan began his talk on "the young black athlete," calling on the audience to move to the front of Korb classroom. It was conversation worth getting close to, as Morgan spoke about "the struggles of the young black athlete.

"And I was that athlete," Morgan said, describing his childhood in the tough neighborhoods of Youngstown, Ohio, which had one of the highest murder rate in the country.
"Going on to get my [college] degree was like winning a million bucks, 'cause that does not happen in my neighborhood," Morgan said. "I learned real young how to deal with adversity. I was seven when I saw my second body. The second body made my mother move us. Then athletics started getting into my spirit."
Inspired by his brother, who ran hurdles in high school, the young Morgan would set up picnic benches in his yard to practice.
"Athletics saved my life," he said. "You hear these stories all the time from the guys who make it to the pros. But you never hear about the people like me—who have their degree, who are working and enjoying life. That's my million dollars. When I go back to my neighborhood, I feel like Lebron and Kobe, 'cause what I've got is unreachable, still unreachable, in my neighborhood."
Encouraging the students to "reach out more," Morgan said the hardships he had faced "set me up for the man I am now.
"You see our track guys walking around wearing that [motto] MOW—NBU (Men of Wabash—Nothing Breaks Us)? I believe that in my heart. Nothing breaks us. I've been through it. You're going through it. But you don't let it break you.
"Keep working. It's worth it. Get that degree. It's worth it. My million dollars, my NFL contract—that's working with people like you."
Following Greg Huey's poem "Why Did You Make Me Black," ("I didn't make you in the image of darkness/I made you in the likeness of me"), Professor Tim Lake spoke about the accomplishments and humanitarian efforts of Haitian-American Wyclef Jean before Brandon McKinney stepped up once again, reading a poem he had written in 2006 with the late Shayne Dube '09.
"I've been blessed since I came here three years ago to have the support and love of the black men of the institute (MXIBS)," Professor Salisbury said in her concluding remarks. "The young men here, particularly the young men of MXI, have been my family. It's a wonderful situation to be around young men who are funny, smart, generous, gentle, thoughtful, passionate, and I enjoying being a part of that, to give you a little help.
"But I don't need to say positive things about the young black men here, because you show me everyday," Salisbury told the students from the MXIBS. "I need to see you reach and stretch for the stars that are out there in front of you."
She pointed out Austin Rovenstine '10, a conservative journalist in the audience who has taken four classes with the more liberal Salisbury.
"I'm not trying to change his mind about anything, but when I see him in my class, I know the gateway between us is open. And he's taught me quite a few things. That's what's cool about being a teacher—when a student makes you stop and think.
"I would like to see more of us open up gateways of things we're going to do."
She urged black students to take full advantage of the opportunities available to them. "If you want to go an immersion trip, go. If you want to study abroad, go. Find a place and start connecting."
She urged them to find mentors, regardless of race.
"One of my advisors was a tall balding white man who looked like Ichabod Crane, and who loved me to pieces. My faculty mentor was a little white lady from Maine who grew up in a town that didn't have any black people. She loves me to this day."
"Make your place," Salisbury said. "Let's decide that tomorrow is a new day, no matter what happened yesterday. We have a future, and it is bright."

In photos: "Professor" Rashaan Stephens '13; Charles Goodman '10, Brandon McKinney '10, and Professor TIm Lake.