Terra Nova Runs Through Saturday
by Jim Amidon • February 22, 2010

Share:
Entering Ball Theater in the Wabash College Fine Arts Center this week, audiences will be inclined to hold on to their heavy winter coats — even though the theater is a comfortable 70 degrees.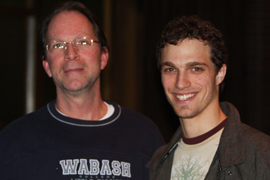 Co-Directors Dwight Watson and Anthony Morton '10, with help from set, lighting, sound, and costume designers, transform Ball Theater into the frigid wasteland of Antarctica.
The scene creates the perfect environment for the Theater Department's staging of Ted Tally's gripping, tragic play, Terra Nova, which opens Wednesday and runs through Saturday night.
Tickets are free, but should be reserved in advance through the
box office
. Curtain time is 8 p.m. each evening.
Written by Tally, who is best known for his 1991 Academy Award-winning screenplay, The Silence of the Lambs, Terra Nova won an Obie Award for best off-Broadway production.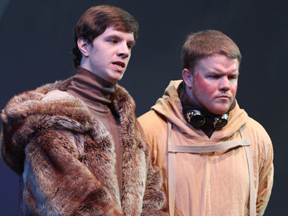 Antarctica is the location for the play, which tells the story of the ill-fated expedition led by Captain Robert Falcon Scott (played by Cody Johnson), the English explorer who attempted to be the first person to reach the South Pole in 1911-12. Scott's team arrived at the South Pole only to discover that Norwegian rival, Roald Amundsen (Spencer Elliott), had gotten there first.
What makes the story especially tragic is that Scott and his team, defeated in their race to Antarctica, died, one by one, while en route to the safety of their base camp. Tally drew heavily from the journals and letters found on Scott's frozen body when it was discovered, along with the rest of his team, which perished just 11 miles from safety.
The play allows the audience to get inside Scott's mind — thinking about what might have been with his wife and children; spiteful that he wasn't the first to reach the South Pole; and acknowledging the fate of his team.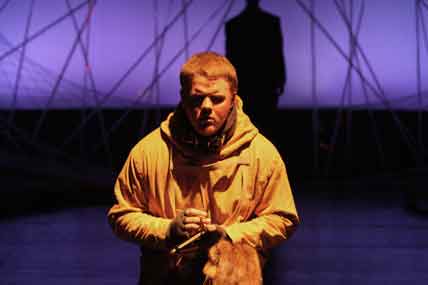 "For my own sake I do not regret this journey," Scott says in
Terra Nova
. "We took risks, we know we took them; things have come out against us, and therefore we have no cause for complaint."
Directors Watson and Morton have pulled out all the stops to create the scene. James Gross' set design is mesmerizing in its complexity and form. Laura Glover's lighting is at times harsh and at other times bleak and hazy; fog permeates the entire stage.
Costumer Andrea Bear outfits the actors for their polar expedition with heavy coats and furs. James Phillips, who taught at Wabash last year, returned to design the haunting sound for the show — cracking ice, sounds of the wild, and the frightening last gasps of human life.
Throughout the drama, Scott flashes back to serene times with his wife, played by DePauw student Rebecca Janvrin, who is supportive, but never quite seems to understand what motivates her husband to be the first to reach the Pole.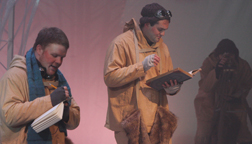 Part of Scott's motivation is hubris — he and Amundsen lament the fact that an American was the first to reach the North Pole.
Ever the English gentleman, Scott flashes back to conversations Amundsen, in which he argued that there should be a certain level of decorum, even in such a wild wasteland. Scott believes his team should pull the group's heavyweight gear during the expedition, while Amundsen believes sled dogs should to do the work — and, if necessary, provide nutrition for the human members of the team.
It's a small cast. In addition to standout performances by veterans Johnson and Elliott, Clay Zook, Luke Robbins, Alex Moseman, and Gusy McKinney are excellent in their roles as members of Scott's expeditionary team. Janvrin is positively lovely and proper in her role as Scott's upper-crust wife.
Jordan Plohr does a remarkable job as the stage manager, while Cody Grady is the technical director who pulls all of the elements together.
Terra Nov
a was first staged the Yale Repertory Theater (Tally's alma mater) in 1977, before it was produced to great acclaim at the Mark Taper Forum in Los Angeles. It appeared
off-Broadway in 1984
.
Wabash's production is free and open to the public. Tickets may be reserved through the
box office
or by phone (765) 361-6411. The box office opens at 6:30 p.m. each evening. This production is suitable for audiences of all ages.