Star Reporter Shares Manual High Story
by Howard W. Hewitt • February 16, 2010

Share:
Indianapolis Star reporter Matthew Tully called an on-going series about Indianapolis Manual High school "the best thing I've ever worked on" during a Tuesday campus visit.
But the 25 newspaper columns he's written on the subject thus far have had an even bigger impact on his views of education and on the readership of the Indianapolis Star.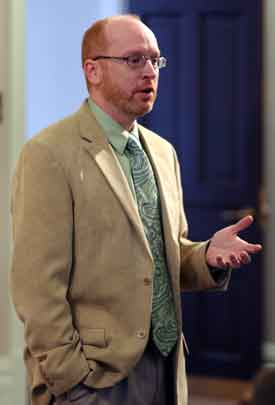 "It's taken over my life," he said. "Eighteen years of journalism is forgotten. All I've heard about is Manual High School."
It all started with an idea to go into a high school for a few days to get a ground-floor look at education at an under-performing, inner-city school, or so Tully told his editors. He admitted he had a bigger idea in mind but didn't know where it would lead.
"When I started, I didn't know if I was going to be there two days or two weeks. I didn't know if the school was going to flip out and kick me out, especially after the first two columns that were really tough."
Manual's graduation rate is under 40 percent. It reflects the population of Marion County with 65 percent Caucasian, 25 percent African American, and 10 percent Hispanic students. It has violence problems, but worse is the number of students who come to school ill-prepared to learn.
"The first few days I realized I'd hit the jackpot," he said of the story possibilities. "The first few weeks at Manual were chaos, disorganized. At first I was getting a little depressed. A lot of students thought I was picking on their school."
But the uplifting stories turned it around for Tully and the state's largest newspaper. He had two 16-year-old girls ask if he was going to write about the "good kids" at Manual. So he told those girls' story and good things started to happen. A mentor reached out to those two young ladies and Vincennes University even offered them scholarships.
People reached out to help students and the school ever since the series began in August.
But the moment the Manual Project became something much bigger is a heartwarming Christmas story. Tully had been impressed with the school's 25-year-old choir director. The choir was preparing for its annual Christmas show, which normally had about 50 people (mainly teachers) in attendance. He decided he do a story on the young teacher and encourage Star readers to attend the Dec. 15 performance at the south side high school.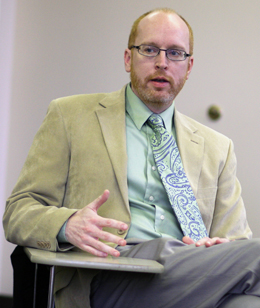 "I remember saying, 'Newspapers are dying. I guess we'll see if anyone is still reading.'"
What happened that night has drawn plenty of attention. The 1,200-seat auditorium was packed with people sitting in the aisles. A second show was added. Donation buckets had to be emptied four times just that night. A choir program that operated on a $750 annual budget got an infusion of $30,000 in cash as a result of the Christmas program and Tully's columns drawing attention to the school's plight.
"The most important thing is the spirit of what went on with the students," Tully said. "I remember one students saying, 'It feels like we're somebody.' People actually came up to me that night and said, 'Newspapers still matter.'"
The decorated journalist said the outpouring just reminded him how much people care about kids. "No matter how grumpy you are, it's hard not to care about kids. I think by writing about kids it's given the series a little more perspective to what schools really face."
The Christmas experience has led the Star to launch a major on-going initiative — "Our Children, Our City" — to raise education awareness and help Indianapolis Public Schools recruit 10,000 volunteers and mentors.
He shared with Wabash teacher education students the experiences of sitting in classrooms with good teachers and teachers who "had just quit." He told a Wabash classroom about the inner politics of IPS and how some of his columns have drawn the wrath of IPS Superintendent Dr. Eugene White.
He answered questions about those hard feelings and even addressed the jealousy some people have expressed about the "good kid" stories.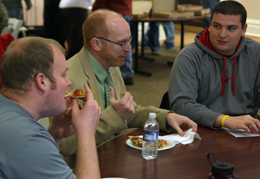 "It's my job to just tell the story," he said. "If someone doesn't like it or they think something is wrong at the school, so be it. It's still happening in that school. It doesn't do anyone any good to sugar coat things."
Tully said the most important thing he's learned is the complexity of the problems. "I've come to understand so much more of what schools do face and that they can only control so much. I've learned about the importance of quality teachers in every classroom and can't believe we put up with bad teachers."
He's not sure what happens after the school year to the project, but he will stay with the Manual Project through graduation. Manual will graduate about 150 students. When the class entered as freshmen, there were about 450 students.
"I can't imagine just walking away from Manual," he told the classroom about his future. "I can't imagine not going back to see how things are going."
Photos by the Bachelor's Drew Casey '12