Alums Encourage Students, Parents to Consider Wabash
by Howard W. Hewitt • February 15, 2010

Share:
Throughout the year uncertain high school seniors and their parents find their way, with brochures and literature in hand, to Wabash College. Often the best information they learn comes from the College's alumni.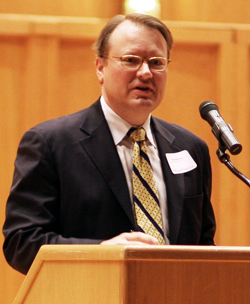 "The world is a big place and you need to be broadminded about the value of a liberal arts education," Tom Halverson '87 told the young men and their parents during the morning welcome. "If my experience is any way indicative, you can't do any better than to come to Wabash College."
Halverson is Chief of Staff at Goldman Sachs Bank in New York. He is a Marshall Scholar and received a Ph.D in war studies from London's King College. He has worked for the European Bank for Reconstruction and Development in London and traveled the world for Goldman Sachs.
He described himself as a very "confused kid from Minnesota" when he arrived as a 1983 freshman. "I didn't realize how much I didn't know," Halverson said. "I didn't know what a liberal arts education was, and that first semester, I was nearly eaten alive.
"But this is a very special place. I was looked after. I discovered a world of incredible intellectual diversity. I learned how to research and write well. I realized the world of possibility is much broader and deeper than what I knew when I arrived.
"My intellectual horizons, outlook on life, trajectories, and opportunities have been profoundly shaped by my experience at Wabash College."
Approximately 100 students and their parents visited Monday. Students who participated will earn the Top Ten Scholarship worth $15,000 a year ($60,000 over four years). Students ranking in the top 5 percent will earn $17,500/year ($70,000 over four years).
See a photo album from the Top Ten day
here
.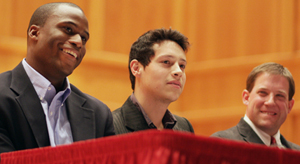 Two Wabash alumni panels shared insights, detail, and answered questions from the visiting high school seniors and then their parents.
"I remember my first visit and everyone walked around with a purpose," Richard Roomes '08, who works for Lilly in New Jersey, said. "It seemed like all these guys were on the right path and I liked that. They knew where they were going."
And they were doing whatever they wanted, L.A.-based actor Reynaldo Pacheco '06 said. "If you want to do things, projects here – it can be done," he said. "It will happen and they will support you."
Support wasn't a problem for physician Drew Cougill '98. His father and brother are Wabash graduates. "So I was dead set I wasn't going to Wabash." Cougill said his brother convinced him to visit. During that visit a talk with Biology Professor Emeritus Aus Brooks convinced him Wabash was his best fit.

"I fell in love with what I witnessed in the classroom," Aman Brar '99 said. "My brain was hungry. I fell in love with the concept of an environment where I was going to be supported by faculty, students, and coaches. Don't think of this place as limited, think of it as limitless."
Brar is a business strategist for Apparatus, an Indianapolis based tech consulting firm founded by a Wabash graduate.
There was the perfunctory discussion about a lack of women, and whether or not buses of girls arrive on campus, but there was also plenty of talk about friendship.
"I've lived in Los Angeles for four years and don't have as many friends as I still have from here," Pacheco said.

And several of the seven panelists noted they met their wives while at Wabash. "I was a poor student, with no car, from Poland, and I met my wife while I was a sophomore at Wabash," AMD Lasers COO Bart Waclawik '98 said. "I felt like I did okay!"

Adam Vela '94, a Denver attorney and restaurant owner, cherishes his friendships and told parents not to worry about their sons' social lives. "All of my friends who went to Indiana, Purdue, or Butler tell me they had some of the best times they had in college right here on this campus," he shared.
And when you look around at those friends, Brar said, you will be stunned by your classmates' success. "I see what guys in my class are doing now and it's amazing," he said, answering a question about the 'Wabash network.' "Now it's beyond job opportunities; it's making business deals."

Rick Strasser '02, who works for IBM, told the parents that opportunities at the College can lead to many after-Wabash career options. "It was transformational for me," he said. "It forced me to grow up as a sophomore with an internship in Denver (working for a Wabash alum). I turned 20 while in Denver living on my own."
He then studied abroad in Wales as a junior. "Having the confidence to make it through Wabash gave me the confidence to succeed."
In photos, top to bottom: Halverson, panel of Roomes, Pacheco, and Cougill, Brar, Waclawik, Vela, and Strasser.