Dan Rogers Shares Placher's Words
• February 11, 2010

Share:
Professor of Modern Languages Dan Rogers reminded students, faculty and staff Thursday of the obligations all community members have to Wabash College.
His Thursday Chapel talk featured a long excerpt from a talk Bill Placher gave on the 175th anniversary of Wabash College.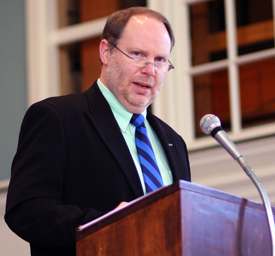 But he preceded those remarks with humor and anecdotes – mainly poking fun at the Sphinx Club for the short notice on the invitation to speak. He brought "tradition" into the conversation without a heavy-handed approach, noting his favorite time of year is Halloween and Valentine's Day when Rhynes are "dressed up in costume."
But that is a tradition and he noted that all of Wabash has responsibility in upholding some of those traditions. Wabash re-invents itself every four years, he noted. "It takes work to remind our newcomers of our past."
He spoke of teaching a Senior Seminar course with Bill Cook this semester. And, he noted Cook has shared many stories of his senior year (1966). "I was three months old then," he said, drawing a big laugh.
The point, of course, was that traditions and the great names of the past must be shared with students of today and tomorrow.
He then talked about the late Professor of Religion Bill Placher and shared some of Placher's remarks from the anniversary celebration.
You can watch video of Chapel Talks on the Wabash College YouTube Channel.