Wabash Has A Big Game Sunday Too!
by Matt Wilson
The Journal Review • February 7, 2010

Share:
Before settling in to watch the Super Bowl on Sunday, Wabash basketball players will have other thoughts on their mind. While the Indianapolis Colts will play for their second world championship in four years, the Little Giants have a big game also as North Coast Athletic Conference leading
Wooster comes to Chadwick Court for a 2 p.m. tipoff.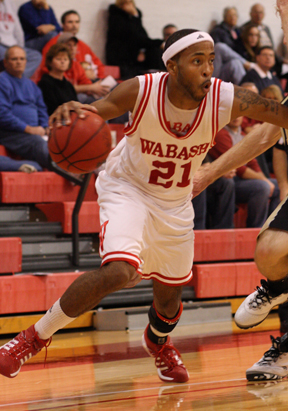 What better way to kick off Super Bowl Sunday than to watch some good Division III basketball? Cost shouldn't be an issue, as it's free to walk through the Chadwick Court doors.
Sunday games are a rarity for the Little Giants. The only other time Wabash hasn't gone through its normal schedule of playing Wednesday and Saturday was right before Christmas break when the Little Giants traveled to Wooster for a Sunday tipoff on Dec. 20.
The fan support so far this season has been solid, as the Little Giants have averaged 788 supporters in their first nine home games. There was a crowd of 1,376 fans that came to watch Wabash's game against in-state rival Earlham on Wednesday, but North Montgomery graduates A.J. Sutherlin and Kyle Calder had something to do with that number.
Wednesday's 70-42 victory over Earlham set up Sunday's showdown with the Scots. Wabash is alone in second place in the conference standings with an 8-3 record. The Little Giants have won nine of their last 10 games, with the lone loss during that stretch being a 73-67 setback to Ohio Wesleyan on Jan. 27.
Wooster is on top of the league standings with a perfect 11-0 mark. The Scots have won 11 consecutive games. The last time Steve Moore's squad lost was a 72-65 decision to Randolph-Macon on Dec. 14.
Sunday's showdown also will be a battle between two of the top scorers in the NCAC. After his 22-point showing Wednesday against Earlham, Wabash junior Wes Smith averages 19.1 points per game. Smith has shown his ability to score in many different ways — whether it's driving and slashing to the basket, knocking down an open 3-pointer, or getting a dunk off one of his steals.
Smith is shooting 52 percent from the field. He is third on the Little Giants with 15 3-pointers.
Wooster has junior guard Ian Franks, who averages 18.1 points per game. Helping the Scots shoot 35 percent from beyond the arc, Franks has hit 43 percent (27-for-63) of his 3-pointers. Franks
is shooting 55 percent from the floor.
Wednesday also was a battle between two of the conference's top scorers, as Smith took on Sutherlin, who averaged more than 18 points a game entering the contest. The difference between Franks and Sutherlin is Franks has more support.
Sutherlin was the only Quaker averaging in double figures that played Wednesday. Wooster has three double-figure scorers behind Franks, as Nathan Balch averages 10.8 points, Bryan Wickliffe averages 10.6 points and Justin Hallowell averages 10.3 points. Wickliffe also averages 6.8 rebounds per game, while Hallowell averages 6.2 boards a contest.
For anyone who hasn't seen a Wabash game this season, Sunday would be a great opportunity. The atmosphere is one of the best you'll find in Division III. The Wabash Sphinx Club put on a great halftime show during Wednesday's game, and there is a possibility they might be performing again Sunday.
Start your sports Sunday by cheering on the Little Giants. Then end it by rooting on the Colts and first-year coach Jim Caldwell in their quest for another Super Bowl ring.