Students Embrace Sharing Research
by Public Affairs Staff • January 29, 2010

Share:
The Celebration of Student Research, Scholarship and Creative Work gives the Wabash community a chance to come together each year and celebrate student achievement.
All afternoon classes are cancelled to allow students, faculty, and staff to see the work Wabash men have accomplished in recent semesters. The variety included complex Chemistry/Biology research to analysis of literature and the popular arts.
The Celebration gives students a chance to talk about their concentrated areas of study, but in some cases work they enjoy outside their major.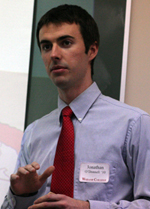 "It's a chance to speak about other areas of life that interest me," is the way Chemistry major Jonathan O'Donnell '10 put it. O'Donnell participated in the Ecuador program two summers ago and traveled to the Galapagos Islands. During his stay he befriended an Ecuadorian professor.
His presentation was about Plan Columbia or How the Herbicide Roundup Has Harmed Innocent Ecuadorian Civilians.
"Speaking with that professor and hearing the urgency she spoke with was a big contrast against the apathy of the government."
His presentation was about a joint U.S.-Columbian effort to eradicate the cocaine problem by spraying herbicides. The herbicides, thought, filtered into the northern regions of Ecuador causing significant health problems.
One of the challenges is to explain very complicated matters to each visitor. Brandon Hirsch '10 had a poster presentation titled: Anharmonic Spectroscopic Properties of Hydrogen-Bonded System. He talks about explaining it in the video below.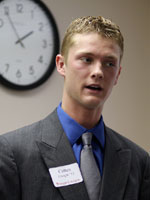 Colton Craigin '13 presented his research, Wabash Writing, from his freshman composition class. "As a freshman here at Wabash, I was interested in the topic because I felt that writing was a real issue for many students. As I researched, I started to understand why freshmen feel so overwhelmed."
Craigin proposed solution at the beginning of his research was that professors needed to work together and understand they are collectively assigning too much writing. That writing overwhelms the students and thus the quality of their work suffers. Professors should assign fewer writing assignments.
After surveying a group of 42 students from the freshman and senior classes his solution shifted to the students. Students need better time management. It was the comment from one freshman that really shifted his thinking. He said "If I want to become a better writer I need to write more. I'm not going to become better at my jump shot if I practice shooting less so why should my writing get better if I do less of it?"
Craigin concluded students need to take advantage of the time management workshops offered at Wabash to learn who to cope with the writing required of students. Therefore the quality of their writing will not suffer regardless of the amount of practice they get as students.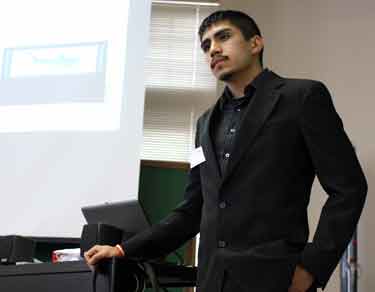 Art major Juan Diaz '10 opened his presentation,
Multiple Perspectives and Crossing Borders with Art,
with an oft-debated question: What is art?
Diaz suggested "a Wabash approach" to the question, and he described how two years ago he founded the Visual Artists group, whose 30-plus members meet every two weeks to discuss this very question while exploring the diversity of art forms.
"For many people, art is painting and sculpture, and that's it," he said. "But members of the Visual Artists group say, 'Yes, but we can go farther. There is more.'"
"Chartres Cathedral in France may be the best example of what art is," Diaz said, displaying an image of Our Lady of Chartres Cathedral in central France. "It is full of art, from the sculpture in the architecture to the windows of stained glass. It is a metaphor for art."
Showing examples fitting his definition of art from the Pyramids of Giza to modern public installations and an amorphous sculpture made of shiny metal that vividly reflects everything surrounding or approaching it, Diaz said that the visual arts had expanded "beyond just how something looks, but to its function, purpose and significance."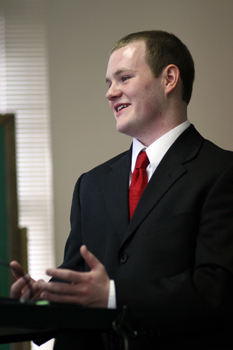 When Nigerian master woodcarver Lamidi Fakeye died in December at age 84, the documentary about him that Joe Reese '13 and Aaron Cantu '11 were filming suddenly took on new significance. Working with Professor of Art History Elizabeth Morton, Reese is editing the final version to be presented at the Africa Network Conference at Denison University in April. For his presentation Lamidi Fakeye: Master Carver on Friday, he previewed some clips from that work.
"We were very fortunate to have him here, and making the film has been a fun and exciting process," said Reese a theater/history double major with a minor in Spanish and an area of concentration in film.
The preview opened with the camera panning close-up over some of the Yoruba carver's most beautiful work, then cut to Western Michigan Professor Bruce Haight describing Lamidi's extraordinary contribution to art and culture.
"He bridged religious worlds as well as artistic worlds," Haight says in the film, noting that Fakeye was a devout Muslim who nonetheless carved in the Yoruba tradition, including Christian religious figures.
The film's music is provided by Wamidan, the College's world music ensemble directed by Professor of Music James Makubuya.
Among the highlights of the project for Reese was getting to know the carver himself. "He was so congenial; he would call us 'friends,'" Reese said. "We caught a lot of interpersonal moments with him when we were filming—I hope to include some of those interactions in the final cut."
Clips of the film will be available in the next few weeks at www.wabash.edu/lamidithefilm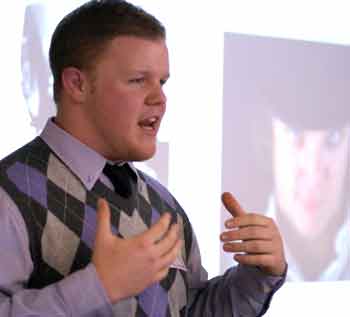 During his presentation Humor, Theatricality, and Violence, rhetoric major Cody Johnson '10 explored Stanley Kubrick's dark science fiction satire A Clockwork Orange. Johnson delved into the methods the filmmaker used to desensitize the audience to violence and to dehumanize victims in the film.
"When I first saw this film, I didn't like it, and I didn't think I'd ever see it again," Johnson began his impassioned and well-crafted talk. "Then I started to read more about it."
Kubrick's approach, Johnson said, used theatricality—wide-body movements, song, dance, and props—to distance the audience from impact of real violence. He showed a clip of the lead character Alex assaulting people in their home as accomplices hold the victims and Alex parodies Gene Kelly's famous "Singing in the Rain" scene.
During an interesting question and answer session, Professor of Theater Jim Cherry posited that Kubrick's approach actually made the violence even more horrifying. But that discussion itself lended credence to Johnson's reason for examining such works.
"So why do we study films so closely?" Johnson said. "Why not dismiss it ? You could ask the same question about why we study kids playing violent video games, or violent lyrics in songs."
"We can't simply let the violence wash over us. We need to understand how it is perceived, how it works in these films, how we are desensitized, so that we can apply that knowledge to understanding society as a whole."