Wabash Basketball vs. Wittenberg Broadcast Live
by Brent Harris • January 20, 2010

Share:
Tonight's basketball game between Wabash College and Wittenberg University will be broadcast live over the Internet. Tipoff of the North Coast Athletic Conference men's game begins at 7:30 p.m. at Chadwick Court.
The broadcast is the third production put together by the College through Teamline. Wabash students, working with Media Services Specialist Adam Bowen and Director of Sports Information and Marketing Brent Harris, serve as announcers and cameramen for the broadcast. Three cameras catch the action while Bowen serves as director, switching between the floor shot and two high-level shots from Chadwick Court.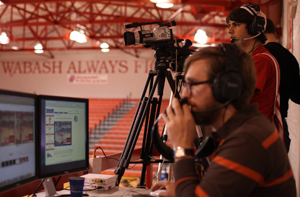 In addition to tonight's game against Wittenberg, Wabash will also broadcast upcoming games against Earlham on February 3 and Wooster on February 7. Any upcoming NCAC Men's Basketball Tournament games would also be available should the Little Giants serve as a host.
View tonight's game here.
Watch previous games against DePauw and Rose-Hulman on the Wabash YouTube channel here.
Photo - Adam Bowen produces the live Internet video feed while his two camera operators catch the action during the Little Giants' home game against Rose-Hulman earlier this year.