The world history class will spend 10 days in one of Europe's most important cultural cities seeing the art and architecture of Michelangelo, Leonardo di Vinci, Raphael, Donatello, and Brunelleschi. The trip is the culmination of a fall semester class.
"We read a book about art and it's a nice book with photographs and whatever but it's not engaging that art in any direct way," Cook explained. "We're really going to be able to look at works of art; the most famous works of art, because they're all available to us in Florence. We're going to be able to look at them slowly. It's not going to be like being in a tour group where you go by this and go by this and snap your picture; we're really going to spend time with the things we see."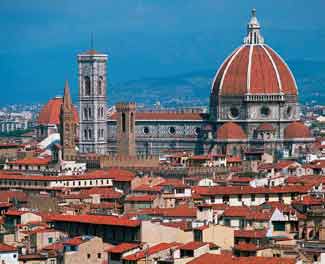 And the students will see plenty, assisted in large part by Cook's knowledge and career-long interest in Italy. The group leaves Monday, Dec. 28, and arrives in Florence Dec. 29. The trip back is Jan. 8. In between, they will be quite busy – see a brief schedule below.
Each student prepared a paper as part of their final in the class on a specific piece of art or architecture. They will be making another presentation in Florence at the location of that art or building.
That is what makes immersion learning so valuable, Cook said.
"I'm not a tour guide; I'm a scholar," Cook explained. "Obviously I can do the practical thing like where the good pizza and ice cream are but the thing I can do is really help to bring some insight to what those works of art mean. They've already finished the course academically back in Crawfordsville, so I can constantly remind them of what we've read and say 'well that took place here. Remember when we read that and well that was a reference to this piece of art we're looking at now. Remember this thing we saw yesterday and let's see how this compares to that.'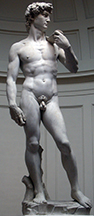 "A course is always linear it's hard to keep jumping back and forth. When we're in Florence, we're all together, we're all doing the same thing and we all have the same background and that's really a unique learning experience they'll never have again in their lives no matter what good guides or what books they read before they go some place on their own."
One of the unique experiences of this trip is Cook's connections. He arranged a two-hour visit to the Uffizi Museum before it opens to the general public. In high tourist season a considerable wait is normal. He also arranged a visit to the Machiavelli villa which is normally not open to the general public.
His biggest coup for this trip was arranging for scholar and author Ross King to join the group during its second week in Florence. King's Brunelleschi's Dome was required text for the fall class. Cook asked King, who lives in London, to come to Florence to lead the climb up the city's most famous landmark.
The students have a full schedule each day beginning around 9 a.m. and ending around the dinner hour. They have the evenings free. Additionally, the students get New Year's Eve and New Year's Day free to shop and explore the city or Tuscany on their own.
The cost of the trip is part of the student's tuition. Students are expected to cover the cost of most of their meals.
Such trips can be life changing for Wabash men. Cook '66 made a trip to Europe while in high school, but it was Wabash that helped him find his passion for teaching and Italy.
"I went to Italy after my freshman year at Wabash with the Glee Club," he explained. I had just taken Roman history with Jack Charles. I still thought I was going to be a political science major, a lawyer and an Indiana state legislator some day. But one of the important experiences in my life was going back to Rome, having been there two years before, and having Jack Charles ancient history course. Within a couple months of coming back and starting my sophomore year and taking another Jack Charles course, I became a history major going to be a college professor. So I know what travel abroad did for me."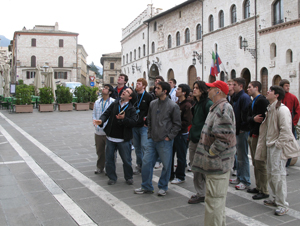 Cook said study abroad and immersion learning can be life changing in many different ways. "I've done Florence many, many times and it may be my umpteenth time but its all of these students' first time. One of the ways things stay fresh with me is I teach about Florence, I read new things and then it I take people there who have these "ooh-aah" moments. I get to relive that because I get to see that in students like when all of a sudden the dome of Brunelleschi is not a photograph it's something they're actually climbing in. That is a different experience and that is a kind of moment of discovery that's hard to make here in Crawfordsville, Indiana."
Trip Schedule Highlights (tentative)
Dec. 29: Arrive and get acclimated to the city.
Dec. 30: Day trip to Prato, north of Florence: Prato cathedral, Museum of San Domenico, and other stops. That afternoon return to Florence for two more stops.
Jan. 2: Michelangelo's David is the highlight of a full day of Florence art, churches, and history.
Jan. 3: Day trip to Sienna to see the Piazza del Campo, the historic city hall, cathedral, and other sites.
Jan. 4: The morning highlight is visiting the Medici Palace. The afternoon includes climbing Brunelleschi's dome – the city's iconic landmark.
Jan. 5: The morning starts with a private tour of the Uffizi – the main art museum - followed by several other stops.
Jan. 6: Day trip to Sant' Andrea in Percussina – visit the villa of political philosopher/writer Machiavelli.
Jan 7: Includes a full morning of the city's library and additional historic sites.
The students will be blogging about the experience throughout the trip. Additionally, Public Affairs' Howard Hewitt will accompany the group to shoot photos and write daily.
The trip will be the first of two Wabash trips to Italy this year. Cook is leading a two-week excursion the second and third weeks of June for interested alumni. That trip will cover Florence, Sienna, and Assisi. Additional information and costs will be available soon. Read more about that trip here.
In photos: Top right, Brunelleschi's Dome. Center left, Michelangelo's David. Bottom right, Cook and Jeremy Hartnett led a group of students to Italy last school year.