At the heart of David Hadley's Fly Fishing Freshman Tutorial, in part, was the concept freshmen would get a head start on their Wabash education. Now at the end of the first semester most seem to agree the trip to Boseman, Montana accomplished that goal.
"Our tutorial was unique in that it provided an opportunity for the 12 of us to experience Wabash before actually reaching the physical campus," Wyatt Lewis '13 said. "I believe that the twelve of us were the most well-adjusted freshman when we reached campus; there was a level of comfort with each other that was apparent in everyone's willingness to participate in class discussion. So I'm pretty sure we had an advantage in that regard - already having friends and a one-on-one relationship with a leader made all of us prone to be engaged on campus."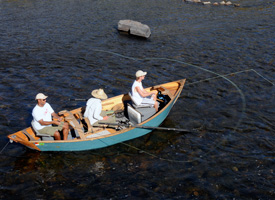 Hadley incorporated many facets of the liberal arts in a week of fly fishing, horseback riding, whitewater rafting, and touring Yellowstone National Park one week before freshman orientation. The class filled in just 90 seconds when freshmen were allowed to register.
What made the trip really successful, Hadley said, was the alumni participation. Brian Grossenbacher '90 led the fly fishing expeditions. Geoff Faerber '98 led the white water rafting trip. Jeff Perkins '89 went along on the trip and helped fund the first-ever immersion trip of its kind. Biology Professor David Krohne and Professor Emeritus Aus Brooks were also a part of the excursion.
Later this month in Wabash Magazine, Professors Hadley, Krohne, Brooks, and their students reflect on how learning to "read the water" is not only a metaphor for the liberal arts, but an ideal way to begin a liberal arts education. Check out "Reading the Water" and "Fishing Like an Osprey" in the Fall 09 edition of WM.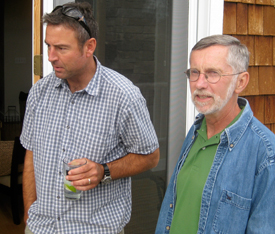 Hadley said the trip "could not have gone any better." He has spent time this fall reflecting on the early freshman experience his unique immersion learning trip provided. "It made a real difference for members of the class and it made a difference for my relationship to them," he said. "When we got back to campus and as we entered orientation and advising I knew these guys better obviously than I'd ever known a group of freshman advisees before."
Dean of the College Gary Phillips said the trip illustrates the value of promoting new student success. "
The research literature is clear that entering college students benefit from small class environments where they can work actively with faculty and one another in relation to a subject matter that engages them in creative and passionate ways
," Phillips said. "
It is a key to fostering intellectual and social engagement, which we know from the Wabash National Study data, is a condition that strengthens learning.
"
Furthermore, persistence in college is tied to a successful start where students experience academic challenge and diversity of intellectual and cultural experience. In bringing together Wabash students, faculty, and alums, the Montana fly fishing immersion experience has set the stage for a first semester of success at Wabash College and a lifetime of learning beyond.
"
The students found themselves with friendships before the first awkward day of orientation. "I made a lot of great friends," said Trevor Poe '13. "I was acclimated better to College as a result of meeting guys early. Some of the other freshmen seemed behind us, because they had not been able to jump-start their college experience with a trip."
President Patrick White said those strong bonds and relationships need to happen as soon as possible. "Our engagement is not just about connection but the quality of that connection," White said. "In the Fly Fishing tutorial, students connected with experienced faculty before they even started their regular classes on matters that cannot be done in the classroom (fly fishing) and matter at the heart of who we are as a College (the liberal arts). This is an extraordinary model."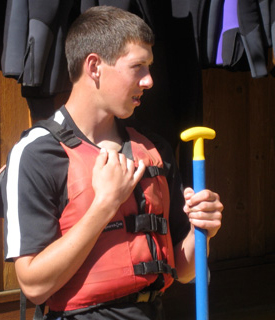 Mac Lopp '13 comes from the small town of Brookston, Indiana. The tutorial immersion helped him transition to college because he'd already made new friends. "The guys from the trip stuck together during orientation which made it easier for me to relate to other freshmen.
For some students the importance of the trip has become more apparent as the semester ended. "We had the ability to talk with our faculty advisor, it helped us adjust to the quality of work required at the collegiate level," Jim Martin '13 said. "The tutorial allowed us to travel the country together and learn the fundamentals of a liberal arts education. I look back at the incredibly diverse subject matter covered; I realize how studying fly fishing is the essence behind the liberal arts.
"The class had readings on fly fishing, and discussions on the philosophical and metaphorical meanings associated. We read and discussed biology, physics, and chemistry of fly fishing, and the ecological environment that must be present for the trout to survive."
It was Hadley's passion for political science and love of teaching which made the tutorial a success, Phillips said. "The
tutorial was not just about the science, the economics, and the cultural history of an American pastime; it was also about the deepest sort of connection with the land, with the work of one's hands, and with students at a formative moment in their lives
," the Dean of the College said. "
I have read his students' reactions to this experience and what they learned. This community of Wabash students has had the opportunity to learn from a great teacher and from one another. This is Wabash education at its best; it is education that makes a difference.
"
Matt Kaczkowski '13 noted the bonding that took place and characterized the trip as an invaluable experience. "I do not think I could have even imagined starting off college with a better experience at a different school. Between fly-fishing, white water rafting, or hiking in Yellowstone Park, I had what could easily be called the trip of a lifetime thanks to Wabash College."
In photos: Top left, fly fishing in Montana. Center, Professor David Hadley with Brian Grossenbacher '90. Lower left, Mack Lopp