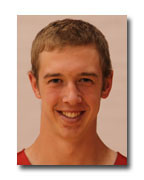 Derek Bailey may just be one of the busiest men on the Wabash campus. The sophomore biology major is a key contributor to both the basketball and baseball teams, while maintaining a spot on the Dean's List.
Last spring, in the span of just one week, Bailey made two round-trips to Ohio for the conference basketball tournament. He rested a few days at Wabash and then traveled to Texas with the baseball team for their Spring Break trip. It is estimated that he spent at least 48 hours on the road during that long week of bus rides.
While several Indiana colleges recruited him to play basketball, Bailey's athletic path to Wabash took on a slightly different route.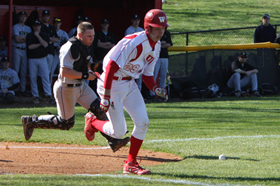 "Coach (Cory) Stevens contacted me first about playing baseball, and I told him that I was interested in playing both sports," he said. "From there, Coach (Mac) Petty became involved and came to a few of my basketball games. Wabash was the only school that really recruited me hard to play both sports.
"In my opinion, we have one of the better recruiting systems here. The coaches do a really good job of making the students feel like they'll be able to play and fit into their programs."
Much of the initial interest in Bailey stemmed from the strength and exposure of his high school team. Bailey played at Bloomington South, an Indiana basketball powerhouse, under the direction of Hall of Fame Coach J.R. Holmes.
"It was an unreal atmosphere," Bailey said. "Just being able to compete on a team that had the opportunity to win a state championship every year, it was exciting.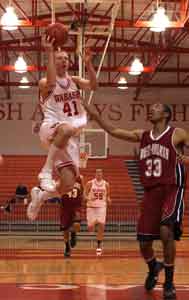 "It made me a better player, competing against guys each day in practice who were as good as or often better than me. You had to bring it every day, because we were such a deep team that you wouldn't be missed sitting on the bench.
"That team taught me the importance of work ethic," the six foot, five inch forward said. "I knew that if I wasn't working every day, someone else on the team was and they would pass me up."
Bailey found his biggest Wabash challenge not to be on the court or the field, but rather in the classroom.
"It was somewhat stressful playing two sports, but I've been doing it since I was five. For me, the hardest part was the amount of schoolwork. I'm proud of the study habits I've developed, being able to stay focused and have things done for class."
Staying in shape for both sports can be a little tricky. During the first few months of the school year, Bailey alternates baseball and basketball workout days before full-time basketball practice begins in October. In December, once the routine of basketball season sets in, he begins to hit in the batting cage and throw in mornings before class. By the time basketball season wraps up, the first baseman/designated hitter is prepared to start practice with his baseball teammates.
"Derek Bailey is the type of kid you love to have on your team," said Head Basketball Coach Mac Petty. "He brings success and understands what winning is all about.
"I always tell my recruits that playing multiple sports is great, as long as they can handle it academically. They are never going to get another opportunity to play at this competitive level while still getting an education, so make the most of it. Derek is an example of the type of student needed to excel at both."
As basketball season unfolds and baseball looms around the corner, Bailey is eager to begin his sophomore campaign. He grabbed 10 rebounds in the home opener versus Rose-Hulman on Tuesday and is averaging six points and five rebounds per game during the first seven games.
"We have the potential to do some pretty dangerous things in basketball this year," he said. "My job is to make sure the starters are ready to play and give them a breath when needed.
"I feel like the baseball team should play for the conference championship once again. We also need to set the season wins record at Wabash. If we can do that, everything else will take care of itself."
Bailey plans to attend optometry school following Wabash. When asked to give words of wisdom to future athletes, he spoke about time management.
"Check your priorities. Is your priority to play two sports, get good grades, or hang out with friends every weekend? Are you going to be able to plan ahead and do homework on the weekend because you know you have three games in the upcoming week? Organization is key.
It's worth every minute though."
Kyle Bender '12 is a reporter for the Wabash College student newspaper, The Bachelor.