Like many Wabash students, Rob Beeler initially planned on going to a big state university before ending up here. Beeler had applied to Indiana University and had gotten accepted. However, upon advising his dad on his college search, his dad urged him to consider Wabash.
"My dad really encouraged me to come to Wabash," Beeler said. "He said that a big school probably would not be a good fit for me."
Beeler took his father's advice, but only partially. After one year at Wabash, where Beeler was one of the top wrestlers, he decided to go to Indiana University where he originally applied. Beeler's main reason for leaving was that his financial aid package was not sufficient.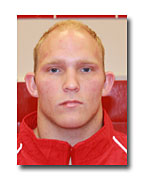 "The transition from Wabash to IU wasn't that tough," Beeler said. "I had already applied and been accepted, so I didn't need to reapply."
The only thing Beeler needed to get used to was the big school environment. Indiana's lecture halls are filled with 300 or 400 students, as opposed to twenty or thirty at Wabash.
"IU is a lot less personal," Beeler said. "I would be in these lecture halls with 300 or 400 students and not know anyone. The classes are taught by TA's, who are horrible about helping you outside of class. It felt more like a high school."
After only one semester at IU, Beeler returned to Wabash, concluding that the big school atmosphere really wasn't for him. Although he was set to be part of IU's wrestling team as a walk-on, his class schedule prohibited him from really being a part of the team. After a few weeks, wrestling was no longer an option.
Although the transition from Wabash to IU may have been easy, the transition from IU back to Wabash would prove to be much more difficult.
"It was tough getting back to both the classroom and wrestling," Beeler said. "IU is pretty laid back, but you are held accountable at Wabash. I came back to C&T and a full course load, where at IU, you didn't even have to read. You did what you wanted. Missing a day of classes at Wabash is like missing a week."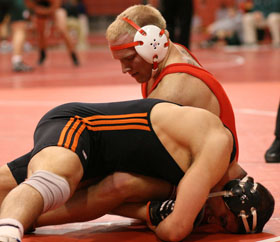 Beeler could tell Wabash was the place for him. He preferred the more personal campus where he knew most of his classmates. He also welcomed the challenge of the rigorous academics. Most of all, he anticipated getting back into the wrestling room after a semester away.
"It was tough," Beeler said. "I wasn't in shape. The other guys had been training for two or three months, and I hadn't."
Beeler has since been training vigorously, in hopes of qualifying for Nationals, and hopefully achieving All-American honors. Along with his personal wrestling goals, Beeler would like to become a history teacher and wrestling coach after Wabash. The summer wrestling camp helped him solidify his decision.
This summer Beeler had the opportunity to help out with the 2009 Little Giant wrestling camp, which featured some big names in Olympic wrestling. The camp featured legendary Olympian and coach, Dan Gable, and Olympian Bruce Bumgartner.
"Meeting Gable and Bumgartner, I came to realize that coaching is a skill," Beeler said. "You have to cater to different skills and personalities."
Beeler has since taken his coaching skills back to his local high school, where he helps the coach on breaks. His coaches welcome his college experience, as he is only one of three guys to wrestle collegiately out of Rushville.
Wabash has offered everything Beeler was looking for when choosing a college. He has gotten personal attention from professors, small classes, and has made several friends on campus. Wabash has also helped him start his career path by allowing him to be involved in several activities, including wrestling and helping with the camps.
Drew Parrish '10 is a reporter for the Wabash College student newspaper, The Bachelor.