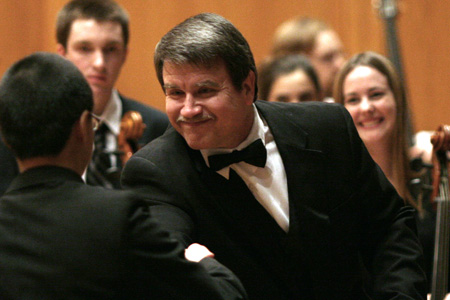 It's a phrase usually reserved for Wabash sports teams, but Sunday night it was the College's Chamber Orchestra and Director Alfred Abel that "played like Little Giants," earning a standing ovation from the Salter Hall audience at the conclusion of their performance of Beethoven's Symphony No. 5.
(See a photo album from the concert here.)
"What impressed those of us in the audience during this spectacular performance was that both the director and the performers had worked so hard in rehearsal that their production impressively lived up to the musical expression challenges intended by Beethoven," said Professor of Music and Chair of the department James Makubuya.
The symphony was the final piece played at the Chamber Orchestra's fall concert, which began with Arcangelo Corelli's Concerto Grosso in F Major. Abel said Corelli's music is on his own personal list of music he'd want if he were ever marooned on a desert island, and a string ensemble from the orchestra showed the audience exactly why.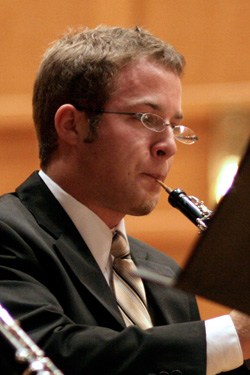 An impressive woodwind ensemble from the orchestra played Mozart's beautiful Serenade No. 12 in C Minor ("Serenade for Winds") and Abel offered special thanks to oboist Deborah Woods for her leadership of the group.
Wabash Brass Ensemble Director and Assistant Professor of Music Peter Hulen praised Abel for both challenging the orchestra and believing in his players' ability to live up to that challenge.
"A director can create easy success by programming nothing but what is already accessible, but that lowers artistic standards and fails to fulfill the mission of the college, especially for students involved," Hulen said. "Creating meaningful success requires putting music in front of the ensemble that is beyond what they are capable of, but not so far that they cannot rise to it. Alfred is a master of arranging and tailoring repertoire in a way that does just that. He took advantage of the fact that the wind ensemble is particularly strong right now and featured them with the Mozart serenade. They really rose to the task, and that was exciting to see and hear."
"Alfred is a great asset to the Music Department," Hulen said of Abel, who also serves as concertmaster for the Lafayette Symphony and plays for the Indianapolis Chamber Orchestra. "His editing of the Beethoven clearly reflects his ability to gauge and meaningfully challenge the ensemble he has before him in a given year."
"Beethoven's Symphony No. 5 is one of the most technically demanding and prodigious symphonies composed to date," Professor Makubuya added. "I have nothing but praise for the Chamber Orchestra's display of talent, hard work, and teamwork in this production."

In photos: Director Alfred Abel congratulates Chamber Orchestra Concertmaster Jonathan Wong '13 following the group's performance of Corelli's Concerto Grosso in F Major as cellist and Assistant Professor of Music Vanessa Rogers looks on; Oboist Keaton Becher '13.