One of Wabash College's beloved daughters (and Mom) shared with students, faculty and staff her view of Wabash Thursday through "her little window" to the world.
Sherry Ross, secretary to the Dean of Students since 2000, was the final Chapel Talk speaker before winter break. She spoke to one of the bigger turnouts of the fall semester.
See all of the fall Chapel Talks on the Wabash College
YouTube page
.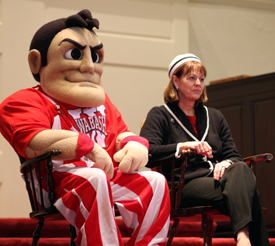 Ross, who with her husband Gary, have been a fixture at Little Giant football and basketball games shared her love of the College and people she has worked with in her nearly 10 years on the job.
"Getting to know the students is the best part of my job," she said. "Wabash is so challenging but all of you seem to adjust and learn to juggle the challenges."
She singled out many past administrators, faculty, staff and students who have left an impact, not only on her, but on Wabash and the students who have attended the College.
"Wabash men really do make positive improvements in the world," she said. "You do stand out, not just in your chosen occupation but also being great men in your community."
She talked about her own son's journey through Wabash and the connections she has made since attending her first Wabash football game in 1981.
Ross urged the students to cherish the special moments.
"I'd encourage our students to be aware of your memories so you can take them with you wherever you go," Ross said. "Take the opportunity to say hello to those around you – faculty and staff – and thank them for making your Wabash education special."
Sherry was made an Honorary member of Sphinx Club in 2003. Gary was named an honorary Club member in 1992. Sherry's son Derrick Stout is a 1994 graduate.