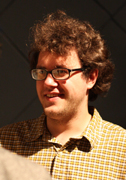 Kristijonas Paltanavicius has been involved in theater since he was able to walk — but most of those experiences took place in his native country, Lithuania. Yet using European acting and directing techniques polished over the years, the Wabash sophomore is tackling an American Christmas classic.
Paltanavicius is directing the Sugar Creek Players production of Miracle on 34th Street , which continues Friday for the second weekend at the historic Vanity Theater in downtown Crawfordsville.
Friday and Saturday night performances begin at 8 p.m. Sunday's matinee begins at 2 p.m. Wabash students with ID get a $1 discount on tickets.
"I have been able to take a look at an American classic from a totally different perspective, which has allowed me to adapt it with European directorial techniques, namely lots of movement and character transformation," said Paltanavicius.
The theatrical version is based on the Academy Award-winning film from 1947, which captured Oscars for Best Writing, Best Original Story, and Best Actor in a Supporting Role. It was also nominated for Best Picture.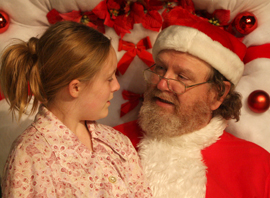 In addition to direction by Paltanavicius, there are lots of Wabash connections in this community theater production.
It's another Christmas in New York City, only this year Macy's Santa Claus is the real deal — or is he? The script follows Kris Kringle (played by Steve Hester of Wabash Campus Services) when he is hired to replace Macy's intoxicated Santa Claus just prior to the start of the Macy's Thanksgiving Day Parade.
After charming Macy's customers and capturing good will across the New York City, Kringle soon finds himself in the New York State Supreme Court defending his identity and even Christmas itself.
Defended in court by the optimistic young lawyer, Fred Gailey (played by Mike Swift, Wabash '77), Kris makes believers of nearly every person in the city — even the skeptical six-year-old Susan (played by Amelia Vasquez, who is the daughter of Poli-Sci professor Paul Vasquez) and her common sense mother, Doris (Cheri Clark). Clark is the copy editor for Wabash Magazine.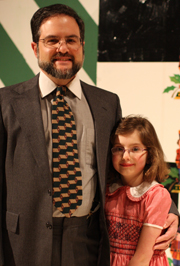 "This is the perfect show to get people in the spirit for the holidays," said Paltanavicius. "We have a large and wonderful cast, which has come together nicely. The show is touching, thoughtful, and hilariously funny at times."
The cast includes Vanity Theater veterans like Hester, Swift, Niki Hutson (Miss Adams), Mike Rossi (Julian Shellhammer), Christopher Adams (Granville Sawyer), and Alex Hughes (R.H. Macy).
But Miracle also includes newer performers like Wabash Professor Paul Vasquez as Charlie Halloran (with his daughter, Amelia at right), Monte Thompson as Thomas Mara, and Wabash's Public Affairs Director Jim Amidon '87 as Judge Henry Harper.
Other Wabash community members involved include Alex Orton '13, along with Sammie Amidon (with Hester, above left), Lanie Rogers, and Terry Swift.
Since he could not go home for the Thanksgiving holiday, Paltanavicius spent nearly every waking hour last week at the downtown Vanity Theater — painting, creating props, and decorating the set. By Monday, he was ready to get back to school work. "Actually, it was kind of a relief to go back to classes since I had spent so much time here at the theater last week. I have a lot of catching up to do!"
"This is a great way to get in the spirit of Christmas," said co-producer Lois Hepburn, whose son, Reed, is a Wabash sophomore. "It's a heart-warming story and we have so many talented actors bringing it to life."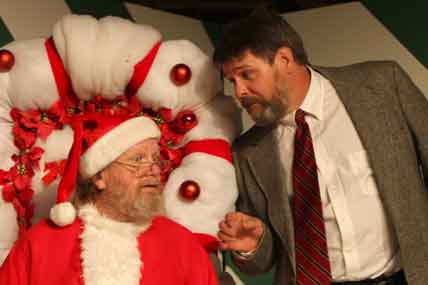 Tickets for
Miracle on 34th Street
are on sale at the box office at 122 South Washington Street. Tickets are $10 for adults and $6 for children, and can be purchased during normal box office hours (11 a.m. to 1 p.m. weekdays) or reserved by phone at 362-7077.
The 31-member cast includes Tyler Abraham, Christopher Adams, Jim Amidon, Sammie Amidon, Annee Clark, Cheri Clark, Kenn Clark, Matthew Clark, Vyctoria Gardner, Morgan Hepburn, Steve Hester, Lauren Howell, Alex Hughes, Niki Hutson, Olivia McKenna, Alex Orton, Lanie Rogers, Leda Rossi, Mike Rossi, Will Rossi, Andrew Samuelsen, Riley Slavens, Mike Swift, Terry Swift, Davis Thompson, Monte Thompson, Robert Tower, Amelia Vasquez, Paul Vasquez, Bernie Williams, Erin Williams.