Associate Dean of Students Will Oprisko shared his life story and tough childhood with Wabash men in Thursday's Chapel Talk. Some of the adversities he overcame as a child helped shape his career path to Wabash College.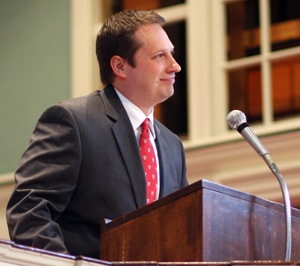 Oprisko, in his first year as associate Dean, talked about the difficulties of growing up in a single-parent family. His father was in prison for a period of time and removed from his sons' lives. That didn't change much after his father was freed.
Oprisko's mother struggled to support her two boys. Oprisko credits all the people who helped him out through his childhood and teenage years for getting him to where he is today.
"I have a powerful desire to invest myself in others as others invested themselves in me," he said. "I'm here because all of you are worth me investing my life into. I'm here because everyone needs help in their lives some times. I'm here because I want you to be successful.
"I'm here at Wabash College because of you."
He talked about things he's learned in his short time here, including all of the words to both verses of "Old Wabash." And he noted the difference in attitude and campus moral after winning the Monon Bell football game.
"I'm here because of you," he repeated. "My hope and goal is I can contribute to your life in a meaningful way."