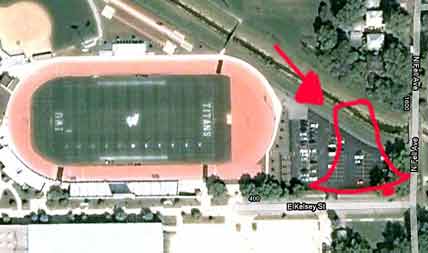 The Illinois Wesleyan Athletics Department has set aside space for a Wabash pre-game tailgate.
The eastern part of the lot, shown in the picture and straight East of the field, will be blocked for Wabash fans. Get there early.
For you Garmin, Tom-Tom, and other GPS device users, the intersection of S. Fell and E. Kelsey will get you close.
Game time is 12:00 Noon Illinois time which is 1:00 PM Indiana time. Tailgating is set to start two hours prior to kickoff.
This is a no-host, bring your own food and beverage. Join other fans for the tailgate then cheer loud and proud for the Little Giants!