Much is written about balancing athletics and academics at all institutions. Every once in awhile there is a unique example of someone who makes it work. Wabash senior Jacob Grow is a unique young man.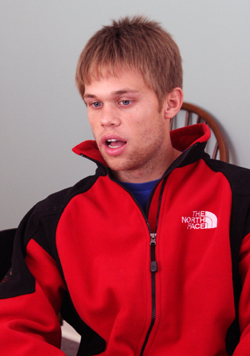 Grow has battled knee problems since his senior year at Columbus North High school until this day. He's been healthy the past two seasons and sees the practice field daily but the game field only at mop-up time.
He also is a pre-med student who hopes to be a doctor. The remarkable part of Grow's story is the statistics. Grow is nearing the end of first semester, senior year, and he is maintaining a perfect 4.0 average. That's an incredible achievement in any major at any college, but Wabash averages about one 4.0 graduate a year.
He is maintaining that work ethic while participating in every practice, meeting, and lifting session for the Little Giant football team. He's done all of this for four years and continues through the physical struggle and work regimen despite having never caught a pass at the varsity level.
He knows the million dollar question is why he's done it and why he's never quit.
"It hasn't been a situation where I've always been dead set about playing," he said. "It's just best for me to continue playing."
He tore his ACL and MCL during the first game of his senior year in high school. He was a legitimate D3 football prospect at wide receiver. He filmed Wabash games his freshman year and had another surgery to clean up scar tissue his sophomore season.
He saw improvement in his ability after his sophomore season. "I got better and that's one of the reasons I continued playing. If I was going to continue improving, I didn't see a reason to stop playing.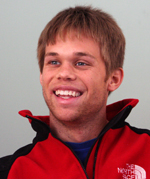 "I really feel like I'm able to compete on Saturdays but with the personnel we have, and we have a lot of outstanding guys, that just hasn't happened. I can realize there are persons better than me and they deserve to play. It's the fact I have improved every single year I've been here."
But its more than the improvement on the field, it's the community he's grown apart of as well.
"I have friendships I have made from seniors who have graduated to freshmen on this year's team," he said. "That is so valuable you can't put a price tag on it. Those are relationships I'm going to keep with me for the rest of my life. If I fell out of that and quit it would be an injustice to those friendships."
Coach Erik Raeburn talks to all of his athletes about character and balancing life as a student athlete. Grow is one of his primary examples.
"Everybody has influence and everyone can provide leadership for the guys on our team," Raeburn said. "Jacob is a perfect example of that. He's doesn't lead the conference in touchdown receptions but I think he's made a real positive impact on our team with his work ethic in football and off the field with his academics."
Grow impresses his professors and those who have advised him as well. "Most guys would have quit long ago, especially those with Jacob's academic gifts and promising future prospects," said Professor of Religion Jon Baer, who has served as Grow's academic advisor. "Instead, he has stuck with the program and enriched it through his leadership and presence.
"Obviously, he has been disappointed about not playing more, but he hasn't become bitter or a negative presence on the team. He has embraced his role and has offered excellent leadership for a young receiving corps. I'm very proud of the character he has demonstrated in this difficult situation. It reflects his deep faith and his mature, humble sense of himself. This will serve him well as he faces challenges in medical school and in his future medical practice."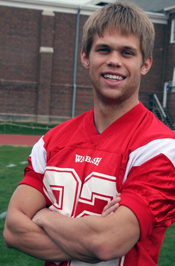 For now though, there is a football game on Saturday. Grow talks about the importance of winning the Bell game among his senior teammates. But he also has a memory that makes Saturday's game even more personal.
"I remember how awesome it was when we won my freshman year," he said. "But I didn't realize what all it meant to seniors. Geoff Walker '07 was hurt during the season and got to go in the very last play of that game. I remember how cool it was and how happy I was for him.
"So now as a senior, I fully understand exactly how much that meant to Geoff."
He has one more semester to solidify his personal goal of graduating with a 4.0. He may not catch a pass in his career, but embraces the experience he's enjoyed.
"These are guys I love and have grown up with putting in the hours, the blood, sweat, and tears. That's such a bonding experience. I wouldn't trade it for the world.
"I've never thought of quitting, they'd be on my back!"