While most students are heading to class today, Wabash sophomore Kristijonas Paltanavicius will be presenting a paper at the Tenth Annual Theatre in Academe and First International Theatre Festival. The conference, hosted by Washington and Lee University in Virginia, draws scholars, teachers, and theater professionals from around the world.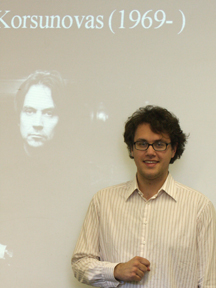 "He is on a panel discussing theater in post-Communist societies," says Wabash Theater Professor James Cherry, "and it's likely that he's the only undergraduate presenting."
Kris will present a paper entitled "Oskaras Korsunovas' Interpretations of Shakespearean Drama in Post-Communist Lithuania," which focuses on the innovative approach of the most acclaimed Lithuanian director. His presentation Wednesday is part of a track session dealing with "Myths, History, and the Cannon; War and Violence — Subversions, Critical Recreation."
"Korsunovas' productions are frequently reinterpretations of canonical plays, particularly Shakespeare's," wrote Paltanavicius in his paper's abstract. "However, the director's radical solutions never take over the original beauty of Shakespearean drama. The director's A Midsummer Night's Dream and Romeo and Juliet confirm the importance of highly inventive visual reinterpretations in Lithuanian theatre performances.
"In these productions, Oskaras Korsunovas reinvents Shakespeare by choosing innovative settings and interpretations for classical stories. In doing so, the director follows the Lithuanian Theatrical traditions of rusticity, elite Soviet avant-gardism, and Catholicism."
Paltanavicius, an international student from Lithuania, has been involved in music and theater since he was a child.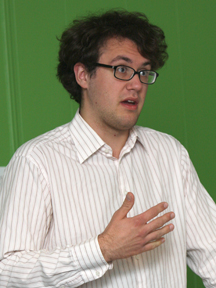 "One evening I ended up in a play by Oskaras Korsunovs, who is one of the most accomplished contemporary Lithuanian directors," said the talented sophomore theater student. "Unlike many other plays, Korsunovas' The Most Excellent and Lamentable Story of Romeo and Juliet led me to discover things I had never discovered before. The depth of metaphor in Korsunovian performances is amazing, and I felt an incredible passion to know it better.
"Korsunovas opens unusual theatrical worlds on stage where different perceptions of social rank, gender, politics, and oppression are combined," said Paltanavicius. "I am honored to have an opportunity to share the theatrical experience Oskaras Korsunovas' plays have given me at the conference."
The paper is an extension of work Paltanavicius has done in the classroom and in a summer internship.
"Kris has a keen insight into the theater and culture of his country," said Professor Cherry. "This project came out of my Modern European Drama class last year and Kris' major research paper on contemporary Lithuanian theater. We began Koursunovas project this past summer, and we've met weekly to discuss the substance of his piece, how to use multimedia, and speaking in a scholarly forum. He's going to do a great job. I know he'll represent Wabash well."
Kris is making the most of his opportunities at Wabash and in Crawfordsville. He served as Stage Manager for Wabash's first theater production of the year, The Bacchae, directed a scene from Angels in America for the Studio-One Acts, and is directing the Crawfordsville Vanity Theater's production of Miracle on 34th Street, which runs the first two weekends in December.
"I have been in love with theater since I was little," the dynamic student said. "Going to the theater was not just a family tradition — it was a passion to explore other worlds presented on stage and later to create them myself. I just remember myself painting huge pieces of poster board — the set for my very first play — at 1 a.m. when I was just five. I never really understood or questioned myself what led me to do that.
"Now I realize that my deep interest in performing arts was a passion I was born with. My head is full of memories from dozens of children's plays I made with my friends; massive musicals in one of the most famous Lithuanian musical assembles; artistic reading and acting competitions; and musical-theatrical performance on the Lithuanian National Television."
But it wasn't his just his experiences that led him to major in theater at Wabash. "It was my eagerness to immerse into a theatrical performance and live in it," he said.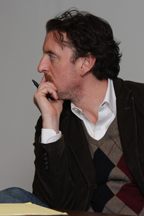 "It all started with noticing the power of directorial decisions and perceiving visual techniques when I was watching plays with my classmates in elementary school. I remember when other children pointed out the wires the birds on stage were hanging on in one of the plays. I did not see the wires; it did not matter to me how the effect was achieved — I was only seeing perfection of the image.
Paltanavicius' presentation at the conference was made possible by Professor Cherry (pictured right), with funding from the Undergraduate Research Committee. "I wish to thank Professor Cherry for the enormous amount of help he has given me when preparing for the event," Kris added. "I am feel ready to present on Oskaras Korsunovas' theater to multi-cultural audiences."