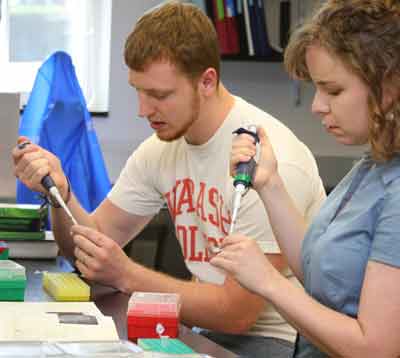 When he began his Wabash career in the fall of 2008, Patrick Garrett '12 was hardly the stereotypical college freshman.
"I wasn't at the top of my high school class, involved in every club imaginable, or an all-star athlete," said Garrett, who balances his studies with his responsibilities as father to his two-year-old son, Myca. "But I wanted to know that I could still make it through the rigors of college like everyone else around me here."

The sophomore biology major is doing more than just "making it through." Last Saturday in Indianapolis, Garrett was named a 2009 Independent Colleges of Indiana "Realizing the Dream" Outstanding First-Generation Student.

The award, funded by Lilly Endowment, Inc., comes with a $2,000 scholarship for Garrett, who as a freshman made the Dean's List, traveled to Ecuador as a student in the College's Ecuador Studies Program, and worked as an intern in Assistant Professor of Biology Amanda Ingram's laboratory.

"I was so pleased that Patrick was recognized for his hard work at the 'Realizing the Dream' banquet," said Professor Ingram, who attended the event with Garrett and his family. "Patrick is one of those rare students whose infectious enthusiasm and excellent work ethic both inspire his classmates and also help him do well in challenging classes."

Garrett noted that Professor Ingram was the first Wabash professor he met when he was still a high school senior. He credits her with helping him realize he was capable of not only attending Wabash, but thriving.

"It has been really exciting to see him develop over such a short time from a student who wanted to succeed but wasn't sure he could make it in a rigorous academic environment to someone who understands that the challenges he has faced in the past only help him meet his goals," Professor Ingram said.

Also attending the celebration in Indianapolis, which honored 32 first-generation college students from across the state, was Garrett's high school science teacher, Kathryn Holmstrom. She will receive a $1,000 professional development grant honoring her lasting influence on Garrett's education.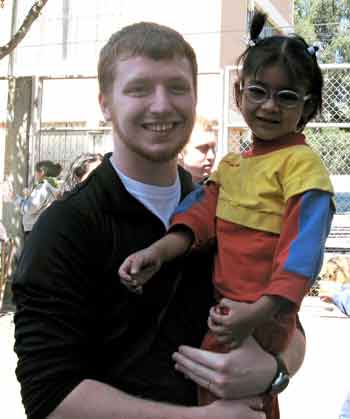 "Mrs. Holmstrom was the first person to hold me responsible for my own education and always pushed me to do my best," Garrett says. "She helped inspire my love of biology and encouraged me to pursue my interests."

After naming Holmstrom his "Realizing the Dream" mentor, Garrett returned to her classroom in October and "was amazed by how much her students want to learn.

"I think what she is doing is inspiring others," Garrett said. "In addition to their class work, they were all spending extra time outside of class to complete an aquaculture project."

Garrett called his "Realizing the Dream" award "an honor not just for me, but for my family.

"I had not actually won anything before; my biggest trophy to this point had been my acceptance letter to Wabash," Garrett said. "As I sat at the banquet waiting to receive my award, I looked across the table at my dad. He was smiling. I don't know if it was because he was proud of me, or because he was realizing how much my education means to me, but there was something different about that smile.

"I am proud to call myself a first generation college student because my journey will hopefully make the path toward higher education a little bit easier for my son. Maybe he'll even go to Wabash."

In photos: (upper right) Garrett works with Assistant Professor of Biology Amanda Ingram in her lab; (left) Garrett with one of the children he taught during his coursework in Quito in the College's Summer Study in Ecuador program.