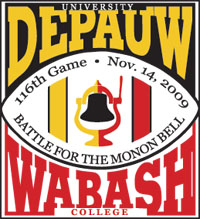 Wabash has sold its remaining tickets for Saturday's 116th Monon Bell Classic between the Little Giants and DePauw University. The annual football rivalry will be telecast nationally on HDNet.
The Little Giants enter the game with an 8-1 record and a possible third consecutive trip to the NCAA Division III Playoff with an at-large berth on the line. DePauw, 7-1 on the year, has clinched a tournament berth for its first-ever appearance in the national tournament.
Kickoff is set for 1:07 p.m. HDNet will begin broadcasting live at 1 p.m. Kevin Lee, a veteran broadcaster who has worked with the Indiana Pacers, Indiana Fever, Indianapolis Colts, Ball State University, and the Indianapolis Motor Speedway Radio Network, will handle the play-by-play duties. Joe Emmick, Wabash Class of 1992, and Rob Doyle, DePauw Class of 1982, will serve as the analysts. Dick Rea, a member of the Indianapolis television media for 29 years with WTHR and WISH, will report from the sidelines.
HDNet is available on DirecTV (Channels 79 and 306) and on DISH Network (Channel 362). Many local cable companies also provide HDNet as part of their hi-definition packages.
Sixty-five broadcast parties have been set up by Wabash and DePauw alumni throughout the country. (View a complete listing with contact information here).
Parking, tailgating, and stadium entry information for Saturday's game can be found on the DePauw web site. Parking lots will open at 9 a.m. with gates to the stadium scheduled to open at 11:30 a.m.