History Professor Stephen Morillo has been invited to give a lecture on the world history of piracy as part of Northern Kentucky University's Military History Lecture Series.
Professor Morillo will present "Barbary Pirates to Somalis: A Veterans Day Perspective on the World History of Piracy on Wednesday, November 11 at the Eva Farris Auditorium on the Highland Heights, Kentucky campus.
Morillo was invited to Northern Kentucky by his friend and fellow world historian, Jonathan Reynolds, who gave a lecture on the world history of food at Wabash year ago. The fact that Morillo returns the favor with a lecture on military history on Veterans Day is, as he puts it, "accidental genius."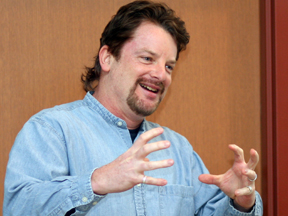 "It's a fun opportunity to talk to a really big popular audience, and to be able to frame some work I've done on naval and maritime history in current terms — both the Veterans Day angle and the relevance to ongoing Somali and Indonesian piracy," said Professor Morillo. "So I'll be pursuing a sort of 'what history can tell us about our world' angle."
Between 1801 and 1805, the United States fought its first foreign war since the Revolution. The 35 Americans who died in the struggle against the Barbary States in an effort to suppress piracy in the Mediterranean thus have a claim to be the first of the veterans we honor on November 11.
"This talk honors the veterans of our First Barbary War by exploring piracy as a window onto some deep structures of world history," said Morillo.
Morillo, the Jane and Frederic M. Hadley Chair in History, will discuss who the Barbary pirates were and provide a snapshot of the history of maritime predation.
"If we look at piracy in the context of long-term global patterns of maritime activity, from the time of the Sea Peoples of the late Bronze Age through the predations of Vikings, Edward Teach (aka Blackbeard), to modern hijackers of oil tankers, fundamental continuities come to the fore.
"Today, off the east coast of Africa and in the South China Sea, piracy has gone high-tech," added Morillo, who is the author of four books on military history and is currently writing a world history textbook. "Small powerboats guided by GPS systems and armed with grenade launchers seem a world removed from Barbary corsairs, or from Jack Sparrow and the swashbuckling image of 17th century Caribbean buccaneers. Are they?"
Morillo teaches world history and more specialized classes in pre-modern military history and medieval and early modern Europe at Wabash. He earned his bachelor's degree from Harvard and his Ph.D. from Oxford.
His books on world history include Warfare under the Anglo-Norman Kings, 1066-1135; The Battle of Hastings, Sources and Interpretations; Cultural Encounters; What is Military History?; War in World History.
Morillo's lecture at Northern Kentucky is sponsored by the University's Office of the Vice President for Academic Affairs and Provost, Office of the Dean of the College of Arts and Sciences, Office of the Dean of Students, NKU Veterans for Education and Transition Support, NKU Veterans Advocacy Committee, the NKU Department of History and Geography and Phi Alpha Theta Historical Honor Society.