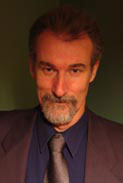 Wabash College Conservative Union will host Douglas Farrow at 8 p.m., Thursday, November 12, in room 216 in Center Hall. His lecture, "The New Definition of Marriage: Personal Liberty or Political Bondage," will focus on issues raised in his award winning book, Nation of Bastards: Essays on the End of Marriage.
Farrow, a leader in the defense of traditional marriage in Canada, is a professor at McGill University in Montreal, Quebec. He is the project director for pluralism, religion and public policy at that university and a consultant in the Institute for the Study of Marriage, Law, and Culture. His essays have appeared in the National Post and various other Canadian newspapers.
Farrow's's talk is free and open to the public.