More than 175 high school seniors visited Wabash College Friday for Top Ten Scholarship day. They went to classes, heard from alumni, and walked the campus to see if Wabash was a good fit for their education and future.
See a photo album here from the day's activities.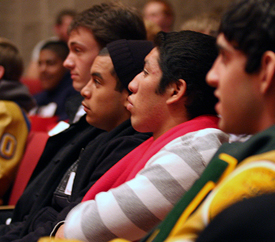 Students and their parents were here to learn about the liberal arts, the Crawfordsville campus, and hear alumni talk of the advantages attending Wabash College. The high school students were all in the Top 10 percent of their high school class. Their Friday attendance makes them eligible for renewable $15,000-$17,500 scholarships.
"You do not yet know how good you are," President Patrick White suggested to the young men. "You want greatness in your lives. You have high ambition. We welcome you for what you've achieved, but want you for what you can become."
Scott Smalstig '88, owner of Joseph David Advertising, Muncie, took the podium and talked about the staggering numbers of social media to the 18 year olds. "The access to information and speed of this planet is becoming dizzying," he said. "How do you catch up with it? My answer is Wabash College."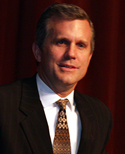 He talked about how the College helped him and changed him. He read through mission statements he had written for organizations and finished with Wabash College's succinct: "Wabash College educates men to think critically, act responsibly, lead effectively, and live humanely."
One of the day's highlights was separate sessions for students and parents with Wabash alumni. The recent graduates shared conversation and answered questions on academic rigor, post-Wabash life, single-sex education and the liberal arts.
Students and parents reconvened for lunch then broke into different groups for the afternoon. The students had classroom experiences with Wabash professors. Parents heard about immersion learning and financial aid.