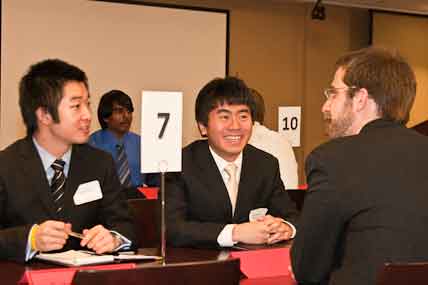 Alumni members of the Indianapolis Association of Wabash Men (IAWM) gathered on Thursday evening, November 5, 2009, to provide a "speed" networking opportunity for several Wabash students. The event was held at the offices of the law firm Barnes and Thornburg in downtown Indianapolis. Many thanks to
Bob Grand '78, Mark Stuaan '78, and Paul Jefferson '92 of the firm for setting the event up.
While the economy is still recovering and the opportunities for college graduates are hard to find, there are some employers looking for talented individuals to join their companies. Bart Waclawik '98, who is the COO at AMD Dental Lasers in Indianapolis, told Wabash staff members that he was hoping to identify prospective employees during the networking event. Bart mentioned that his company can't produce dental lasers fast enough. Great news for the company, Indianapolis, and Wabash!
The "speed" networking idea uses the principle of offering all of the students an opportunity to meet every alumnus involved. Short, 4-minute segments drove the conversations right to the important stage. After the initial rounds were completed, the students had an opportunity to spend more time with the alumni they identified in the earlier conversations.
Scott Crawford, director of the Schroeder Center for Career Development at Wabash, termed the evening a big success. Jim Kerr '92, president of the IAWM, also saw the event as a positive evening for students and alumni alike.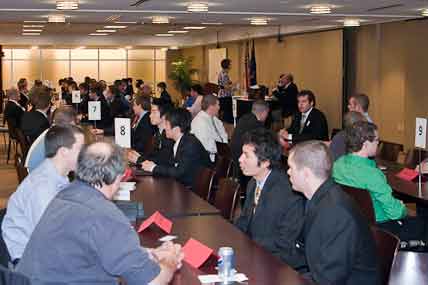 Photos:
Top - Bryan Roesler '06 talks to two Wabash students - Paul Liu and Nick Su, both FIJIs from China
Right - Barnes and Thornburg managing director and Wabash Trustee Bob Grand '78 welcomes Wabash alumni and students to the law offices
Bottom - The room was full - a great turnout!