Chris White, President Patrick White's wife, shared her lifetime experiences as a nurse and some of the lessons she has learned from those experiences in Thursday's Chapel Talk.
White has spent more than 30 years as a nurse and talked about treatment of patients has changed and how she has repeatedly learned that the "caring" part of nursing can be just as important as the medical treatment.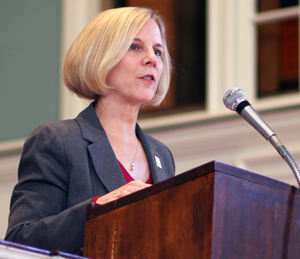 "I have long believed in the power of the mind and body connection and the important linking to physical health and disease," she said.
She used a personal experience with pneumonia and the power of positive thinking to help promote her own healing. "Not only does the mind influence the healing of the body can heal the mind," she suggested. White noted how physical exercise can suppress the desire for nicotine in people trying to kick the cigarette habit.
Six years ago the White family went on a special hiking trip in the Grand Canyon. Again, Chris became ill with heat exhaustion. She had packed numerous first aid supplies but it was her children carrying all of her belongings and husband Pat trying to keep her shaded, forcing her to drink water, and drying off the perspiration which helped her recover when there was no other help available.
White talked about going to Biloxi, Mississippi, after Hurricane Katrina and acting as medical director in a clinic when no other medical care was available in a 20-mile radius. She was astounded upon returning home to South Bend at the resilience of the people there.
"It's a vivid and beautiful awareness of the power of the human mind when people share in suffering and share in caring," she said. Currently she is working in Crawfordsville to help form a free clinic … "because it's a good thing to do, the right thing to do and because I care."
Mrs. White concluded by telling the students they currently are in the right place at the right time and their liberal arts education will guide them in making decisions about health. "All of us will be consumers of health (regardless of what happens in the current national debate). You must be ready and trust what the mind tells us ... embrace the power of love and support from your family and friends."