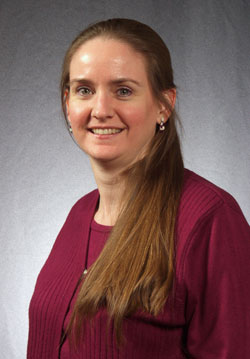 Starting with her first quilt made during a summer elementary school camp, Wabash professor Dr. Karen Gunther fell in love with quilting.
As a child, Gunther did more weaving and crocheting because that's what her mother and grandmother did.
During her junior year at Oberlin College, she picked up quilting after participating in an apprenticeship with a quilter in Denver, Colo.
Gunther's work is currently featured in the Mary Bishop Gallery at the Crawfordsville Public Library. Also on display is the glass bead work of Crawfordsville resident Barbara Brookie White.
Gunther, a psychology professor at Wabash, has a masters degree in Music Perception and a Ph.D. in psychology Cognitive Science with an emphasis on color vision. She quilts as a way to relax in the evenings.
"I enjoy quilting over crocheting or weaving because you can get to the big patches of color quicker," said Gunther.
That first quilt she made features a black cat in the center and is one of 24 quilts that are featured in the exhibit. Her second quilt, High Tech Tucks, came from a name created by Caryl Bryer-Fallert, the first to use dimensional folding as a quilting method.
All of her quilts are done completely by hand. She constantly takes a quilt she is constructing on all her business trips. She said that one of her favorite quilts, featuring a Japanese Maple Tree, has been all over the world with her. She spent nearly three years working on it.
"That quilt has gone with me everywhere," said Gunther. "Including trips to New Zealand, France and Ireland."
Gunther is a member of the Sugar Creek Quilt Guild and has had quilts in the Montgomery County Art League's annual art show the last two years.
When sitting down to start a quilt, Gunther said she normally has an idea where she wants to go with the quilt.
"Most of the time my ideas end up becoming a bigger quilt than what I intended when I start them," said Gunther.
One of those large quilts fills one of the main walls of the gallery. The large quilt features a variety of flowers with a bright red rose border around it.
Another one of the quilts is "Drunkard's Weave" a quilt she purposefully made in colors that she disliked. She never got rid of that quilt and it hangs in her office at Wabash College.
She is hoping that one day she will find time to make a series of quilts, dedicated to her International travels. The series would include eight different quilts, one for each country she has visited.
White, a former art major in college, owns the 1864 Yountsville Woolen Mill with her husband, Alan. As an artist, White enjoys painting, but over the last six years she has taken up glass making. She has now moved into doing more casting pieces for larger works of art.
She said that she took up the hobby after a back injury six years ago kept her away from painting.
"It gave me a way to continue my love for art while sitting down," said White.
Her love for gardening and flowers comes through in a lot of her bead work that is on display at the gallery. Some of the highly-detailed beads in the display are in the shape of strawberries, plow fish, Christmas trees, hearts and several other objects.
The beads are ready to be made into wearable jewelry. The glass used is Italian, German and from American glass makers.