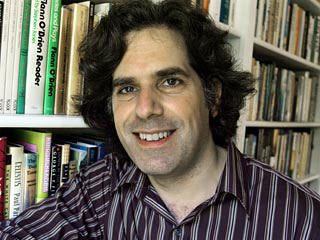 The Wabash College Visiting Writers Series will host fiction writer,
Jonathan Lethem
, at 8 p.m., Monday, November 9, in Ball Theater at the Fine Arts Center.
Lethem is one of today's most prolific fiction writers. He has published nine novels, including National Book Critics Circle Award-winner, Motherless Brooklyn and New York Times bestselling Fortress of Solitude. He has won a MacArthur "genius" grant. He has written two collections of short stories, a collection of essays, and, last year, wrote a graphic novel, Omega the Unknown.
Lethem will be coming to Wabash as part of his current book tour to promote his new novel,
Chronic City
. Listen to a podcast at
amazon.com
with Lethem discussing his new book.
Here's what critics say about Lethem's work:

"[A] writer as clever as they come and as crafty as they get, who skinwalked and shape-changed from Kurt Vonnegut into Saul Bellow before our starry eyes."
--John Leonard, New York Review of Books

"[An author] whose bold imagination and sheer love of words defy all forms and expectations and place him among his country's foremost novelists."
--Salon

"You don't so much read Lethem; you taste and smell and feel and hear him. . . . As a writer and a storyteller Lethem has more juice than any of his contemporaries."
--Kansas City Star

"Lethem often equals Roth in vividness, ambition and beauty."
--New Republic

And about his new novel, Chronic City:

"One of America's finest novelists explores the disconnections among art, government, space travel and parallel realities, as his characters hunger for elusive meaning. . . . All truths and realities are open to interpretation, even negotiation, in this brilliantly rich novel. . . . Lethem's most ambitious work to date."
--Kirkus Review, starred

"Pow! Lethem has done it again. When it comes to brainy adventures full of laughter and heart this master has few equals. What a joy from the first page to the last."
--Gary Shteyngart, author of Absurdistan and The Russian Debutante's Handbook

"I'm reminded of the well-rubbed Kafka line: A book must be the axe to break the frozen sea within us. Lethem's book, with incredible fury, aspires to do little less. It's almost certainly his best novel. It's genuinely great."
--David Shields, author of The Thing About Life Is That One Day You'll Be Dead and Remote
His talk is free and open to the public.