Alex Ingram '10 not only won Moot Court for the second straight year but reached several other milestones. He is just the third two-time winner and second to win two in a row in the event's 16-year history.
The judges panel selected Ingram over Steve Maynard '11, Riley Floyd '13, and Zack Lanning '10.
"I wanted to come in knowing I had fully prepared for this and knowing there was nothing more I could have done preparation-wise," Ingram said, as just the third student to ever reach three finals. "I really tried to cap it off with some stylistic changes and really put it all out there."
Kevin P. Ferguson '96 won back-to-back honors in 1995-96 when there was a Moot Court competition in spring and fall. No one had done it since. Ingram, a Pendleton, In., native joins Ferguson and Johnny Warren '03, who won in 1999 and 2002, as the only other double winner.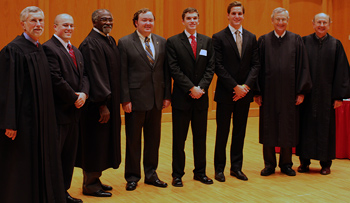 This year's case was taken straight from the headlines. Each year Wabash alumni help prepare a case for the Moot Court, usually based on something in the news. Wabash alums in the legal profession help throughout the process of narrowing participants down to the final night's four contenders.
"Our students took to the competition early and hard and that interest has persisted," Rhetoric Professor David Timmerman said. "What I have noticed has changed and more precisely has developed over the last decade with this program is a shared sense among the alumni and faculty who regularly participate as judges that this is a shared educational good. It combines research, analytical thought, reasoning, and oral expression skills in a very intense manner, and I think both the alumni and faculty members in the program have grown in their appreciation of that."
This year's case was constructed around the basic facts of a real case. The controversy in Southern California's Mojave National Preserve involves a cross and the implications it represents for other religious symbols. The U.S. Supreme Court heard the case earlier this month.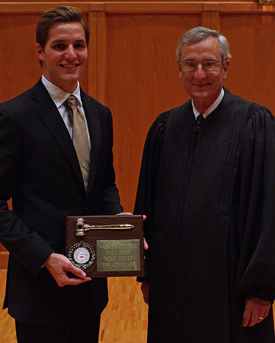 Ingram felt his preparation made a difference but also thought the litigants were all well prepared.
"It feels like the competition was up so much more this year especially with Mr. Floyd — what an amazing freshman. For someone to come in as such a powerhouse, in a competition usually dominated by upperclassmen, is amazing."
The judges questioned the four participants, interrupted them, and challenged their facts and understanding of the case.
"What I found so encouraging and very, very enjoyable was the fact these four young men knew their case and they didn't know where we'd be coming from," Hon. Carr L. Darden said. Darden is presiding judge of the Court of Appeals Fourth District.
He was joined on the panel by Hon. Theodore R. Boehm who sits on the Indiana Supreme Court. Each year a Wabash alumnus and judge participates. Hon. Thomas Milligan '63 acted as a judge for the second time in the program's history. Dr. David Hadley acted as the faculty member of the judges' panel.
Ingram was pleased to win again but remains undecided on where he'll attend law school. Still, he believes Moot Court is a good experience for any Wabash student.
"It's a great logical exercise in itself," the independent and political science major said. "But for people wanting to go to law school, and having done it four years in a row, there is nothing better than practicing what you're going to do. There's nothing I could do throughout the rest of the school year to be better on that stage than coming in here and having conversations with judges in an actual hearing."
Moot Court is sponsored by the Indianapolis Association of Wabash Men and the Wabash College Rhetoric Department.