Fred Morton returned from his Peace Corps work in Nigeria 44 years ago with drums and the rhythms of the Ibibio people in his memory.
"The Ikot Ekpene area where I was living was a musical paradise," Morton recalls. "No night passed without the sounds of these drums emanating from one corner of the landscape or another."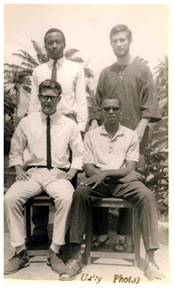 Before leaving the Ibibio and the Cross River Region, Morton acquired a set of slit drums carved from the local iroko wood and used in ritual masking ceremonies.
"I hoped that I could take their sound with me," Morton explains. "That I might chance on a cluster of Ibibio visitors to the U.S. who might want to try their hand for the pleasure of myself and others."
That moment never came for Morton during his 19-year tenure as professor of history at Loras College, where he wrote extensively on African history, including The Historical Dictionary of Botswana and Children of Ham, the only full account of slaves' and ex-slaves' struggle for freedom during the European colonial conquest of Kenya. Morton also launched the college's study abroad in South Africa program.
Last spring Morton was visiting his son, grandchildren, and daughter-in-law (and Wabash College Assistant Professor of Art Elizabeth Morton) in Crawfordsville. He attended a performance by Wamidan, the College's world music ensemble, and once again heard the sound of African drums, these from East Africa.
The performance inspired Morton to donate his own collection to the ensemble.
"The gift is an incredible treasure not only to Wamidan, but to the College," says Wamidan Artistic Director and Associate Professor of Music James Makubuya. "It enriches the ensemble with a unique type of instrument from West Africa alongside those we already have from East Africa. It provides more breadth to Wamidan students learning about world music, and it will educate our audiences about musical instruments most have never experienced.
The six drums are a rare set from a ritual drumming group played during ritual masking," adds Professor Elizabeth Morton, the College's art historian. "This is a wonderful and rare opportunity for an American music group to play authentic, relatively old African drums, which were once used for ritual masking. I am thrilled about the possibility for art history students to be able to experience the crucial link between art (in the form of masks) and music and dance."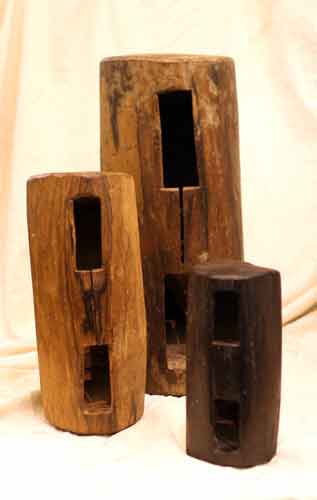 The drums will be introduced to the Wabash community during a public reception in honor of internationally acclaimed African master carver Lamidi Fakaye (right) in the College's Eric Dean Gallery of the Fine Arts Center at 5 p.m. Monday, October 26. See pictures of the celebration
here
.
Wamidan will perform three pieces at the reception, including one on the slit drums from the Morton collection. The drums will be featured often in future Wamidan performances on campus and as the ensemble travels.
"It is my delight to know that these drums will be brought to life at Wabash College," Fred Morton says, gratified that when the Wamidan ensemble plays, "listeners will a chance to hear what living in Ikot Ekpene was like."

In photos: Fred Morton (lower left) poses with fellow teachers during his Peace Corps days in Nigeria; three of the slit drums Morton has donated to Wamidan and Wabash.